Learn CPR, Save a Child's Life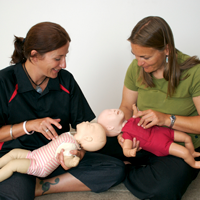 As the summer goes on, it's important that we all remember to keep water safety top of mind. "Keeping Kids Safe In and Around Water: Exploring Misconceptions that Lead to Drowning," our most recent research report made possible with support from Nationwide's Make Safe Happen program, found that nearly 800 children die in and around water each year, with two-thirds of those deaths occurring between May and August. Thankfully, because a grandfather in South Carolina took the time to learn CPR, one little girl did not join those numbers.
Anisa Arsenault at The Bump writes:
Another swimming pool tragedy was averted thanks to the quick action of a South Carolina grandfather. Isaac Fripp, a deputy with the Beaufort County Sheriff's Department, found his one-year-old granddaughter, Treasure, floating unresponsive in his pool. He immediately began CPR.
"She was still. [Her] eyes were closed, and so was her mouth," Fripp tells WBTW News 13. Treasure also had no pulse.
Upon arrival at the scene, firefighters took over CPR and used an automated external defibrillator (AED) to save the toddler's life.
The firefighters say Fripp's immediate CPR made it possible to resuscitate Treasure. One responder, Sam Kearns, says Treasure's age made the situation feel especially dire.
"When you arrive on scene and it's a one-year-old baby, all kind of things go through your mind," he says. "It's like, we can't let this happen on our watch. It made us feel like everything that we've done in the last 15 years is worth this one time, because you're not going to save everybody. But if you get a chance to save a beautiful one-year-old girl, it's amazing."
Performing CPR right away can increase the chance of survival. In fact, when CPR is initiated before Emergency Medical Services (EMS) arrives, the child has a better chance to survive without long-term health implications. Learning CPR and basic water rescue skills may help you, just like Isaac Fripp, save a child's life, and thanks to our friends at the American Red Cross, you can easily find a CPR Training class near you.
For more pool safety tips, download our Pool Safety Checklist in English or Spanish. You can also download our Pool Safety Poster in English or Spanish to display at your home or community pool.