A Magical Safe Kids Day for All!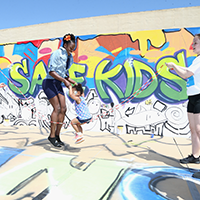 Earlier today, celebrities, parents and hundreds of kids celebrated Safe Kids Day in Los Angeles, CA at Smashbox Studios. This signature event was just one of 225 Safe Kids Day events taking place across the United States this spring to raise awareness and funds for Safe Kids Worldwide.
Guests were treated to a magical afternoon that started with a visit from Papa Smurf and Smurfette in a giant game room and ended with a Magic Show performed by magicians of all ages. The SkateDogs performed skateboard tricks and each child was fitted with a new Bell helmet. Moms and dads tested their knowledge of proper car seat installation by competing in Chevrolet's Ultimate Car Seat Challenge. The fun continued as guests boogied on the black light dance floor, explored the Safety 1st Tiny House and played with Clifford at Nationwide's ball pit pool. Families explored a fire truck (that also made pizzas!), visited with exotic animals and creepy crawly bugs and maneuvered around the giant man on stilts wandering the event.
And did we mention the face painting, make your own magic wands, Sprinkles cupcakes and a visit to the FedEx truck to claim a toy prize?
Celebrities attended the event with their families to shine a spotlight on Safe Kids Worldwide's mission to protect kids from preventable injuries, the #1 killer of children in the United States. James Van Der Beek, Cobi Jones, Alysia Montaño, Derek Fisher, Lisa Ling, Joey McIntyre, Gunnar Peterson, Terri Seymour, Hudson Yang, Leonor Varela, Tom Arnold and more enjoyed exploring all the activities featured at the event.
We are very grateful to our national sponsors, including Johnson & Johnson, Nationwide, FedEx, Chevrolet, Kidde and Tide. We also extend our appreciation to our signature event sponsors, including American Airlines, The Guess Foundation, Safety 1st, Britax and Evenflo for helping us make the Los Angeles event possible.
Dr. Peter and Laurie Waldstein once again served as co-chairs of our host committee. They helped to recruit 44 individuals and families to join the host committee for Safe Kids Day. We were thrilled to welcome them and their families to the event. The generosity of sponsors and host committee members enabled 50 deserving families from Westside Children's Center, Mar Vista Family Center and Children's Hospital of LA to attend the Safe Kids Day event.
The 2017 Safe Kids Day campaign has raised close to $1.1 million to protect children from preventable injuries. You can support our efforts by donating online today.
Safe Kids Day events are taking place all across the United States. Find a local event near you, or join the "I'm In" campaign to pledge your support to protect kids.
Thank you to everyone supporting the Safe Kids Day campaign – we are inspired by your commitment to protecting children. Happy Safe Kids Day!
Thank you to all our sponsors who have made Safe Kids Day 2017 possible
National Sponsors
Signature Event Sponsors