Make a Life Jacket Your Fashion Statement of Summer 2018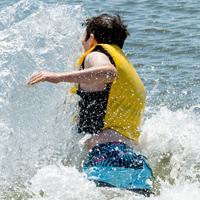 This blog was written by Madi Hawkins, Safe Kids Public Policy summer intern.
In my first days at a Safe Kids intern, we released "Hidden Hazards: An Exploration of Open Water Drowning and Risks for Children," which discusses the dangers that confront kids in open water like lakes and rivers. It brought me back to an experience I had when I was about four years old.
I was with my family on a canoe trip on the South Llano river, near Junction, Texas. It was a nice afternoon but the water level was high due to recent thunderstorms. As we paddled, we came up on some fast-moving rapids. Suddenly, we hit an underwater rock and our boat flipped over into the water. It was shocking, but fortunately my life jacket quickly pulled me to the surface and I came out of the experience relatively unscathed—except for a little water up my nose.
My experience wasn't so different from the tragedy of 4-year-old Micah Anderson. On May 18, 2018, Micah and his father Jesse were kayaking near their home in northern Minnesota when their boat flipped. Micah was rescued and airlifted to the University of Minnesota Hospital where he later died, and his father's body was found the next day. Neither father nor son were wearing a life jacket.
In the conversation about open water safety, the focus is on activities perceived as more dangerous, such as swimming in a lake or the ocean with strong currents. People think of canoeing and kayaking as a calm, relaxing activity, and therefore do not see it as a danger. However, these activities can be just as hazardous for children if they are not prepared and educated. In fact, incidents on kayaks and personal watercrafts accounted for 22 percent of total recreational boating deaths in 2017 in the U.S.
Wearing a life jacket is the single most important thing you can do to stay safe on the water, especially for children. In 2017, 84.5 percent of fatal boating accident victims were not wearing a life jacket. Many of these fatal boating accidents involved children.
The Hidden Hazards Open Water Report emphasizes the importance of children wearing an approved Personal Floatation Device (PFD) in open water, including canoeing and kayaking, until they are at least 13 years old. Additionally, the report provides information about life jacket loaner programs, which exist across the country at popular swim locations to lend life jackets to swimmers and boaters free of charge. These loaner programs are often set up through volunteer organizations.
I can still remember begging my parents to let me take off my life jacket, even if it was just for a little while. My experiences as an intern have helped me realize that our capsize adventure might have ended very differently had I not been wearing a life jacket. At Safe Kids, we want people to have fun, but you can appreciate the water and be safe at the same time. A life jacket can protect children from possible dangers in open water, and ensure the trip stays enjoyable.
---
Madi Hawkins is a rising junior at Vanderbilt University in Nashville majoring in Public Policy and Cognitive Studies. She grew up in Austin, Texas.