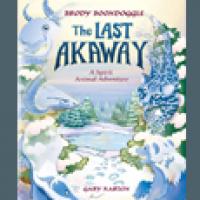 Every December, my family piles into our 2001 minivan (275,000 miles and counting) and heads to Buffalo to visit my mother-in-law. I call her "Grammy Yes" because whenever my kids asked Grammy a question, the answer was always, "yes."
"Yes, you can have chocolate-covered potato chips for breakfast."
"Yes, you can stay up as late as you want."
"Yes, we can keep that feral cat."
"Yes." "Yes." "Yes."
And even though my kids are little monsters when they start their day with sugar and they're not that great to be around when they don't get enough sleep and Grammy already has six other cats (and counting), I have to say I'm eternally grateful for Grammy Yes.
That's because Grammy's answer is also "yes" when my kids ask if she'll take them out first thing in the morning after a fresh snow.
"Everyone knows it's the best time to look for animal tracks," she says.
And she'll say "yes," when they want to follow those tracks deep into the woods.
"You never know how great adventures are going to begin," she says.
One day, they came home to tell me about some tracks they discovered that were unlike any other they'd ever seen. It led to a discussion about animals and special powers and the endless possibilities in the world.
There isn't much better than seeing a kid who is inspired. Every kid deserves to feel that way, and that's why I wrote a spirit animal adventure series for young readers called The Last Akaway (see synopsis and review), which just happens to have a character named Grammy Yes. She's quirky and unique and guides the kids as they work to save the last Akaway, which is a magical creature that connects kids to their spirit animals – that's how they get their special powers.
Even more important, the fictional Grammy (just like the real one) encourages the kids in the story to explore and take chances and have fun, and that's just the kind of magic you need to save the last Akaway and protect the special powers of kids everywhere.
If your kids ages 7 and up like animals, special powers and great adventures, The Last Akaway makes a great gift. Here are some special offers. A portion of the proceeds this holiday season goes to Safe Kids, which also works hard to make sure kids can grow up to explore, take chances and have fun.
Have your kids discover their own spirit animal by taking this quiz.