From Mental Toughness to Matching Shoes - A Team From Head to Toe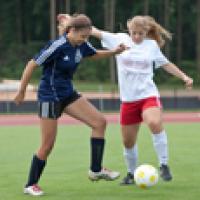 As I watched the U.S. women's soccer team win the World Cup, I couldn't help but think that somewhere, "H" is smiling.
"H" was my high school varsity soccer coach. His real name was Haroot Hakopian but we just called him "H" for obvious reasons. He was a former army ranger who believed in the importance of teamwork, determination, respect and hard work.
Our practices were intense. I still remember the football team just standing and watching as we ran sprints each day. "H" wanted us to achieve mental and physical toughness so we could push through our preconceived limitations and reach our fullest potential.
Understanding that there was no way we could get through it alone, our team built a sense of comradery that represents everything that is good in sports. My teammates and I were truly united around principles and core values that we carried out each day. Things like teamwork, determination, respect and positive attitude that are so important in sports and beyond.
We cared about each other, we played hard for each other, we stuck up for each other and that commitment went beyond the field. We were so confident and proud; we wanted to prove our unity to everyone. This even meant getting matching running shoes before each season. I still remember my senior year, we would strut around school in our colorful Nike sneakers, showing our togetherness with style. The state championship was our goal and during those moments we truly felt like we couldn't lose.
The regular season was tough, but our determination and spirit got us to the quarterfinal game in the playoffs. We were in an extremely competitive division, and everyone knew that the team that won this game would almost certainly go on to win the state championship. The score was tied 0-0 with very few opportunities to get ahead on either side. With only a few minutes left of regulation time, I received the ball, quickly turned and took a shot.
As if it were in slow motion, I can still vividly remember the ball catapulting over the goalie, her face horrified by the realization that she couldn't do anything to stop it. I lifted my head proudly, expecting to see the ball touch the net. But to my disbelief it smacked against the crossbar. A minute later, our opponents scored a breakaway goal that ended both the game and my high school soccer career.
As I write this with shaking hands, I know that shot that will haunt me for the rest of my life. But that's OK. Because that shot also reminds me of my teammates, the importance of sticking together no matter what and the amazing feeling you get when you're part of a team. It's the same feeling I recognized in the faces of the U.S. women's soccer team. And it's a feeling that I hope every athlete – boy or girl – can experience.
After missing that shot and losing, people would say to me "hey, it's just a game". But they were wrong. My experience taught me that sports are so much more than a game. They are about supporting your teammates and striving to be your best. Like those USA players, our team achieved greatness by giving everything we had. Everything from head to toe.