Mom Unedited: Pool Safely this Summer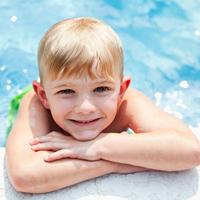 I am convinced my son, Winston, was born with gills. He delights in all things water: oceans, rivers, pools, baths, even our plastic baby pool – he loves them all.
At six years of age and with dozens of swim lessons under his belt, I cautiously say Winston can swim. Just last week, at our community pool, he jumped off a diving board into the deep end and swam to the side unaided. He proceeded to repeat this 10 times in an hour.
Yet just two weeks ago, in a hotel pool that was only four feet deep, Winston struggled and within a few seconds was under the water. I was about five feet away from him, but was distracted with his little sister and did not even see him go under.
Thankfully a watchful stranger scooped him up and dragged him to the side of the pool. Winston coughed and sputtered for a minute, caught his breath and happily jumped back in for more.
Each day in the United States, two children lose their lives playing in or around water. That adds up to almost 800 kids each year.
Drowning happens fast. It is often quiet. A child slips under and the struggle is muffled by the surrounding water. Even kids that are considered competent swimmers can drown. Babies can drown in a few inches of water. As a parent, these facts are hard to hear and the stories of loss are soul wrenching.
So what is a parent or caregiver to do? Safe Kids Worldwide has 5 tips for families, whether at the pool, the beach or in the little plastic pool in the front yard.
Watch kids when they are in or around water, without being distracted. Keep young children within arm's reach of an adult. Make sure older children swim with a partner every time.
Teach children how to swim. Every child is different, so enroll children in swim lessons when they are ready. Consider their age, development and how often they are around water.
Make sure kids learn how to swim and develop these five water survival skills:

step or jump into water over their heads and return to the surface;
float or tread water for one minute;
turn around in a full circle and find an exit;
swim 25 yards to exit the water; and
exit the water. If in a pool, be able to exit without using the ladder.

Teach children that swimming in open water is not the same as swimming in a pool. They need to be aware of uneven surfaces, river currents, ocean undertow and changing weather.
Know what to do in an emergency. Learning CPR and basic water rescue skills may help you save a life.
Now that I know Winston doesn't really have gills, these are tips I'll be sure to follow. Please share them with your family and friends and have a happy (and safe) 4th of July!
---
This blog was written by Shannon Sullivan.