My First Year at Safe Kids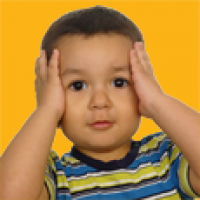 It's been almost exactly one year since I first set foot in the Safe Kids office and accepted a position to join the team. And what a year it's been.
I don't currently have any children, but I do plan on having some in the far-off future. And I want to be a good mom.
Working at Safe Kids as a pre-mom has opened my eyes to the shocking world of child injury. I've worked my way through a bunch of topics – some of which I have a general knowledge of like sports safety and medication safety; and others risk areas I didn't even know were a hazard.
While reflecting on the past year, it occurred to me just how much knowledge I have gained and how lucky I am that I work in a job that teaches me new things every day.
So here are the top 10 shocking facts I've learned in my first year at Safe Kids.
10. More children ages 5 to 14 are seen in emergency rooms for injuries related to biking than any other sport.

More than football. More than soccer. Please, wear helmets!

9. One child every 3 hours is treated in an emergency room after swallowing a button battery.

Hmmm. So that's why people put duct tape on the back of their remotes? I thought they just lost the back piece.

8. One in five high schoolers cross the street while distracted by mobile devices.

While this statistic doesn't surprise me, it has made me realize that I need to make a real effort to put my own phone down while crossing the street.

7. Working smoke alarms reduce the chances of dying in a fire by nearly 50 percent.

50 percent is a lot! As you may remember from a previous blog, Ryan Gosling taught me the importance of checking the batteries in my smoke alarms.

6. 73% of car seats are not used of installed correctly.

I wish this number wasn't this high. While I always knew I had no idea how to install a car seat, I now fully understand that I should get a car seat technician to help me out.

5. 86% of emergency room visits for medication poisoning are due to the child getting into adult medicine.

Yikes. I have pain killers in my purse right now. Did I put away that cough medicine last night? This is really something I will need to work on when I have children, or have children visit my house.

4. Temperatures inside a car can rise 20 degrees in 10 minutes.

While it kills me to leave my dog at home alone, it might kill him to bring him with me to run errands. I'm never doing that anymore. It's not worth the risk.

3. Kids are twice as likely to be hit by a car and killed while walking on Halloween than any other day of the year.

Halloween is one of the most exciting nights for kids. It is so tragic that a night that is supposed to be so fun can turn out to be deadly. Love those glow sticks.

2. Every 10 days a child dies from a TV tipping over.

What?? How awful! Before working here, I had no idea this was even an issue. This is the one fact that I tell everyone I know.

1. Preventable injuries are the number one killer of kids in the U.S. and around the world a child dies every 30 seconds from a preventable injury.
No way. This can't be true. What about disease? What about starvation? What about those commercials I see on TV that make me cry? This fact is mind-blowing. Preventable injuries are preventable! We can change this.
If these statistics are as surprising to you as they were to me, help us change them. Our tip sheets are all located on our website. Or, follow us on Facebook and Twitter where every day I post facts and tips that will hopefully help parents, soon-to-be parents, people who might one day want to be parents and anyone who wants to learn a little bit more about child injury prevention.
---
This blog was written by Julie Kenneally.