New Kids Show Mack & Moxy Encourages Kids to Buckle Up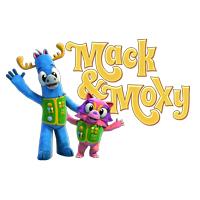 Mack is a moose-like gentle giant; the enthusiastic, fun-loving instant best buddy of everyone he meets. Moxy may be small but she is mighty, as her name suggests. This power-packed perky pink raccoon has endless energy and eternal optimism and together, Mack and Moxy teach kids the value of helping others.
In the episode Buckle Up for Safety, made possible with the support of Graco and charitable partner Safe Kids, Mack and Moxy and guest star Keegan-Michael Key (Key & Peele) help kids learn about the importance of buckling up for safety.
We agree with Mack and Moxy, we all need to buckle up every ride, every time, whether it's for a long road trip to visit grandma or a short one to go to the playground. But, it is also essential to do so properly. Did you know that nearly 60 percent of car seats are not installed correctly? According to the National Highway Traffic Safety Administration, when used correctly child safety seats can reduce the risk of fatal injury by as much as 71 percent.
So, here are some things you can do to keep your kids as safe as possible when riding in a car:
Attend one of the thousands of child passenger safety events Safe Kids holds across the country. Our trained technicians will teach you everything you need to know to make sure your car seat is fitted and installed correctly.
For immediate help, check out the Ultimate Car Seat Guide. It offers tips and videos to help you select, install and use car seats, and the advice can be personalized, based on your child's age and weight.
Don't forget to register the car seat, it is the easiest way to find out if your car seat is involved in a recall. You can register online with your car seat manufacturer or at SaferCar.gov using the information found car seat label.
Mack & Moxy airs on PBS stations (check your local listings) and is now streaming on Netflix.