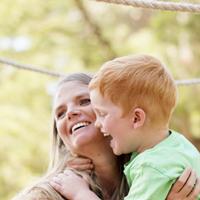 As the weather gets warmer, more kids will be playing outdoors and visiting playgrounds – running and jumping, climbing and swinging.
This week is National Playground Safety Week, so it's the perfect time to review some safety tips and talk with your children about being safe while having fun on the playground.
Tips for Playground Safety
Actively supervise children on playgrounds. It won't be hard – they'll probably be calling for you to watch them climb, jump and swing.
Teach children that pushing, shoving or crowding while on the playground can be dangerous.
Little kids can play differently than big kids. It is important to have a separate play area for children under 5.
Ensure that your children are dressed appropriately for the playground. Avoid the risk of strangulation by removing necklaces, purses, scarves, and clothing with drawstrings that could get caught on equipment. Even helmets can be dangerous on a playground, so save those for bikes.
Take your kids to playgrounds with shock-absorbing surfaces such as rubber, synthetic turf, sand, pea gravel, wood chips or mulch. If your child falls, the landing will be more cushioned than on asphalt, concrete, grass or dirt.
Help us raise awareness about National Playground Safety Week by sharing these tips with other parents, and talking with your children about how to play it safe on the playground.
See our full list of playground safety tips.