PREVCON 2015: Turning Ideas into Action to Protect Children Around the World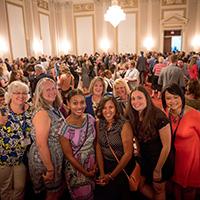 More than 500 safety professionals from 25 countries and nearly every U.S. state gathered at the 2015 Safe Kids Worldwide Childhood Injury Prevention Convention (PREVCON) on July 29 - August 1 to explore innovative new ideas and strategies to protect children from preventable injuries.
Here are some highlights.
Honoring Safety Heroes
A highpoint of the convention was honoring those who have demonstrated outstanding support for our cause.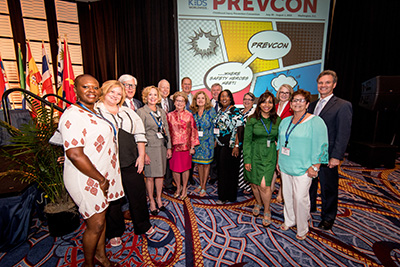 Outstanding Achievement Awards
Safe Kids Superhero: William Bradshaw, Bradshaw Automotive Group
Safe Kids Superhero: Sabiena Foster, District Administrator, FedEx Express
Outstanding U.S. Coalition of the Year: Safe Kids Salt Lake County
Outstanding International Partner of the Year: Hamad International Training Centre
The Martha Collar Award for Outstanding State Coordinator of the Year: Katie Mueller
Outstanding Local Coordinator of the Year: Storm Smith
Outstanding New U.S. Coalition of the Year: Safe Kids West Central Missouri
Outstanding U.S. Lead Agency of the Year: Cook Children's Health Care System (supports Safe Kids Tarrant County)
Excellence in U.S. Programs - Child Passenger Safety: Safe Kids Cape Fear
Excellence in Global Programs - Child Passenger Safety: Safe Kids China
Excellence in Global Programs - Child Passenger Safety Honorable Mention: Royal Health Awareness Society (Jordan)
Excellence in U.S. Programs - Pedestrian Safety: Safe Kids Baltimore
Excellence in Global Programs - Pedestrian Safety: Asia Injury Prevention Foundation (Vietnam)
Excellence in Medication Safety: Safe Kids Fayette County
Excellence in Sports Safety: Safe Kids Massachusetts
Excellence in Sports Safety Honorable Mention: Safe Kids Lee/Collier Counties
Excellence in Advocacy: Dwayne Smith
Excellence in Communications: Safekids Aotearoa (New Zealand)
Outstanding Safe Kids Day Event: Safe Kids Kansas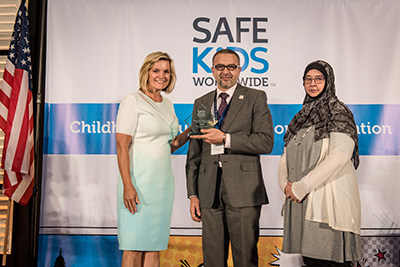 Pitch Your Project
We launched Pitch Your Project, a competition inspired by the show "Shark Tank." Network members submitted proposals for a chance to win up to $50,000 to implement a new program designed to reduce childhood injuries. Out of 36 impressive entries, five finalists were invited to pitch. Our distinguished panel included three members of the Safe Kids Worldwide Board of Directors: Kristin Recchiuti, Director of Medical Affairs, Advocacy and National Partnerships at Johnson & Johnson; David Strickland, former Administrator of NHTSA and now partner in Venable's Regulatory Group; and Kurt Newman, President and CEO of our founder, Children's National Health System.
All five finalists made compelling, dynamic and inspirational presentations, demonstrating innovative and creative solutions for issues we all face. The judges had a tough decision, since every presentation was worthy of support. They announced a surprise change in plan: in addition to the $50,000 prize, they would award a new $25,000 prize!
The winner of the $50,000 prize was Safe Kids Union County, led by Children's Specialized Hospital, presented by Adrienne Robertiello and Joanie Roop. They will be creating materials for the entire Safe Kids Worldwide network to use focused on teaching safety to children on the Autism spectrum.

The $25,000 prize went to Safe Kids Colorado, led by Children's Hospital Colorado, presented by Dwayne Smith. They will be creating a data mapping program all coalitions can use to identify local areas where injuries are most prevalent.
Honored finalists were Diana Starace presenting for Safe Kids Middlesex County, led by Robert Wood Johnson Hospital (a Safety Ambassadors "cross-age tutoring" program); Monica Cui, for Safe Kids China (a magic box equipping volunteers to teach safety); and Libbe Slavin and Erin Donaldson for Safe Kids Wisconsin (a program to reduce playground falls.)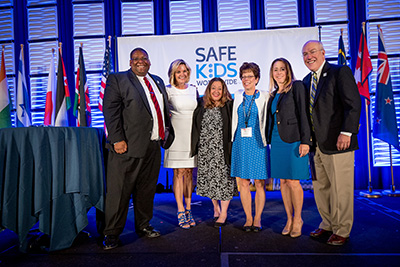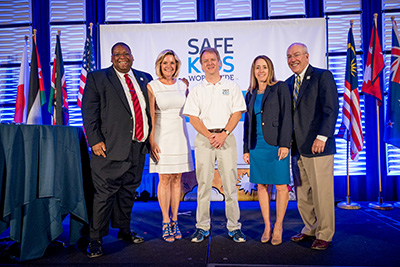 Champion of Child Safety Awards
Network members and partners gathered at the Cannon House Office Building on Capitol Hill to meet legislators and salute two outstanding supporters of injury prevention. We honored Senator Sherrod Brown, the senior senator from Ohio and Sandra Deal, first lady of Georgia for their ongoing commitment to protecting children.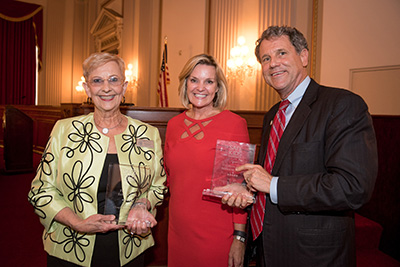 National Heatstroke Prevention Day Press Conference
The press conference NHTSA and Safe Kids Worldwide hosted for National Heatstroke Prevention Day (July 31) was widely picked up by media across the country. Special thanks to Dr. Rosekind, Administrator of the National Highway Traffic Safety Administration; Jeff Boyer, Vice President of Global Vehicle Safety, General Motors; Jan Null meteorologist and national leader on heatstroke prevention; and Reggie McKinnon, a family advocate who told the heartbreaking story of losing a child to heatstroke. A live demonstration by the Prince George's County fire and emergency response team made the story both compelling and particularly memorable.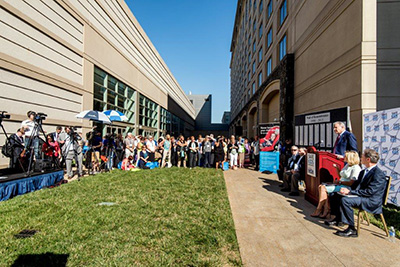 CPS Latest Technology
Ten car seat manufacturers presented their newest technical advances to more than 350 car seat advocates. Many donated products for our Safe Kids certified car seat technicians to use for public education. Our thanks to Britax Child Safety, Inc.; Chicco; Clek Inc.; Dorel Juvenile; Evenflo Products; Graco Children's Products Inc.; Hauck; Kids Fly Safe; Safe Traffic System, Inc.; and UPPAbaby.
Plenaries and Workshops
In addition to the 30 workshops focusing on a myriad of topics (i.e. kids on the road, at play, at home, and how to connect with their parents, legislators, and communities), we had a number of plenaries where all attendees gathered to hear from notable experts.
Opening Plenary
Safe Kids Worldwide President & CEO Kate Carr, opened PREVCON with an overview of the impressive achievements made by the Safe Kids network and the injury prevention community, and announced plans to meet our ambitious goals for the future.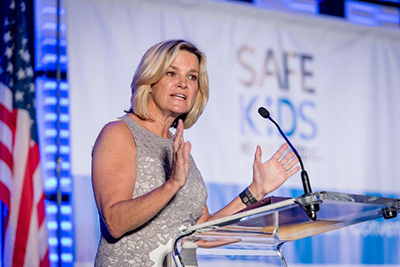 Media Plenary
Dana Points, Editor-in-Chief of Parents Magazine and Chairman of the Safe Kids Worldwide Board of Directors, took attendees to school with a dynamic presentation about today's millennial parents and how to connect with them.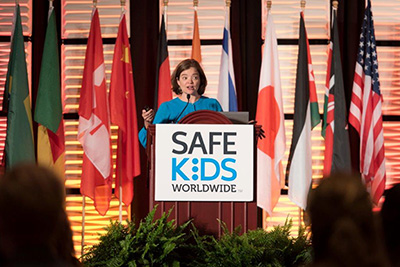 Sports Plenary
Kate Carr led three panelists who addressed how to help kids play safe and strong for a lifetime. Joining her was Michael Bergeron, president and CEO of Youth Sports of the Americas; Risa Isard, program coordinator for the Aspen Institute; and Brie Boothby, a rising freshman at Ohio University who inspired everyone with the story of her severe concussion and ongoing recovery.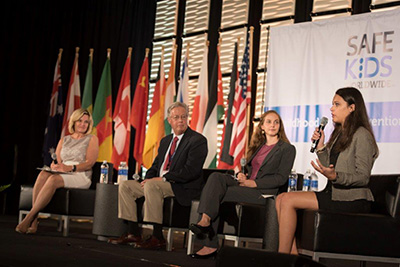 Federal Plenary
Three top federal officials of agencies dedicated to injury prevention joined Kate Carr in a spirited and information-rich conversation about national priorities and challenges: Dr. Mark Rosekind, Administrator, National Highway Traffic Safety Administration; Dr. Debra Houry, Director, National Center of Injury Prevention and Control at CDC; and Elliot Kaye, Chairman, Consumer Product Safety Commission.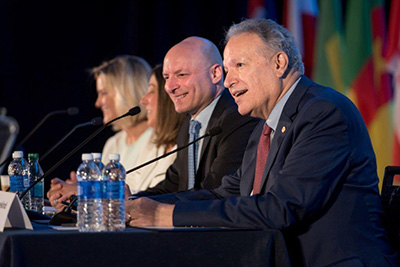 Sponsors and Exhibitors
Our generous sponsors made it all possible. Our deep appreciation to Johnson & Johnson, General Motors, FedEx, Nationwide, McNeil, Kidde, Dorel Juvenile, Tide & Gain, Denso, Toy Industry Association, Bell, CEA, SANUS, UPPAbaby, Auto Alliance, Honeywell, Innocorp and JPMA.
And special thanks to the 50 exhibitors and nearly 30 poster presentations that brought new and innovative ideas to the attention of our avid attendees.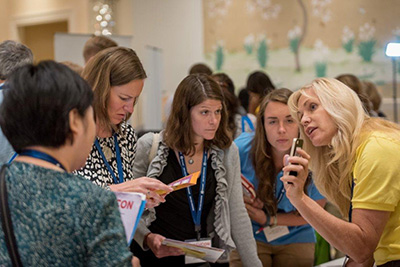 A Final Note
We would be remiss not to mention the fun celebration on the final evening at the Barbeque Dance Party. This group knows how to have a good time!