PrevCon 2019 Was a Kaleidoscope of Fun!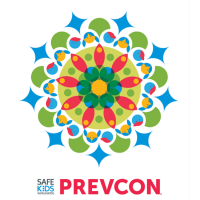 We love that every two years, PrevCon is different and unique – new faces, emerging issues and evolving perspectives. At the same time, we're grateful that some things remain the same: The dedication, energy and enthusiasm that our attendees, presenters and staff bring to our conference amaze us each and every time! And PrevCon 2019 was no exception.
This year's kaleidoscope theme was a symbolic representation of the ever-changing world of childhood injury prevention. To examine the myriad issues surrounding child injury prevention, 500 U.S. and international public health and safety practitioners gathered in Washington, D.C., July 17 – 20 for an extraordinary exchange of information, innovations and celebrations.
The Safe Kids Worldwide Childhood Injury Prevention Convention included exhibits showcasing product demos, posters highlighting new approaches and ideas, and info-packed sessions on a wide range of child safety topics including road, home, sports and water.
One of many highlights of the conference was our opening day awards ceremony. This special event gave us the opportunity to thank our funders, partners, advocates, coalitions and network members, all of whom are vital to our mission of saving more young lives in communities around the world. We heard how one family created a child injury learning center and safety store, turning their pain into purpose after losing their young daughter, Hannah. We heard about the amazing communications campaign executed by Safe Kids Israel to reverse a spike in choking deaths among children. And we celebrated two major milestones: 20 years working with FedEx and 30 years working with Bell!
There is, without doubt, exceptional work being done on so many fronts, but we are particularly grateful for the tremendous efforts of our Safe Kids coalition and network members who work tirelessly to educate families on numerous safety issues. We admire them all, so it was a tough job selecting only a few to be recognized at a luncheon awards ceremony.
As always, we focus on takeaways at PrevCon – insights, best practices and resources that attendees can take back to their communities to strengthen their outcomes and save more lives. And this year, in keeping with our theme, we also focused of the ever-changing future of child safety – what's ahead and how will these emerging issues impact our work. Here are some notable takeaways:
Autonomous vehicles are in development and being tested; Safe Kids is leading the effort to make sure child safety issues are addressed. (Thank you, Torine!)
We, as a society, must value safety and make our voices heard to change the way communities view safety. (Thank you, Dr. Tran!)
The Resource Center is loaded with helpful, ready-to-use photos, press releases, stories, social posts and more. (Thank you, SKW!)
Our network is filled with savvy injury prevention pros who know how to fundraise, partner with healthcare providers and strengthen lead agency relationships. (Thank you, Safe Kids coalitions!)
PrevCon was a rich, wonderful and fun experience for all. (Check out this video for proof):
Thank you to all of our attendees for their efforts to keep kids safe every day! We hope you all enjoyed PrevCon 2019 as much as we did, and we're looking forward to seeing see you all in 2021! Please check out some pictures from the week.