The Risky Road When an Injured Young Athlete Takes a Painkiller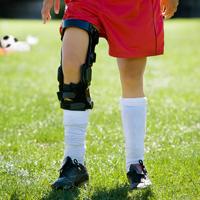 Amber Masters' descent into heroin addiction began when she was playing high school soccer in Anaheim, Calif. A star prospect, Amber collided with another player and injured her already hyperextended knee. A doctor prescribed the opioid Norco. She soon obtained OxyContin from a friend, and ultimately started using and even dealing heroin. Amber introduced her brother to the drug, leading to his death from an overdose. She is now in recovery.
What's the connection? According to the National Institute on Drug Abuse, opioids are a close cousin to heroin, to which the brain responds in the same way. Plus, heroin is cheaper than opioids; an 80 mg OxyContin can cost up to $100 a pill, but according to USA Today, a multiple-dose supply of heroin goes for $45 to $60.
Amber's cautionary story is not unique. We at Safe Kids learned about this issue during a meeting with the White House Office of Drug Control Policy. Their interest came from a story in Sports Illustrated, "How painkillers are turning young athletes into heroin addicts," about a New Mexico high school baseball player seen by his teammates as the ultimate role model. He died of a heroin overdose behind a store with a needle still in his arm.
Inspired by a similar case involving a young man who died of an overdose in suburban Philadelphia, Rep. Pat Meehan (R-PA) introduced the John Thomas Decker Act, HR 4969, which will require the Department of Health and Human Services to develop and disseminate education materials for parents, young athletes, coaches and others who are part of a young athlete's "team." It will make them aware of the risks of prescribing opioids and how to identify potential problems before it leads to a life-changing or fatal addiction.
Opioids are the source of a crisis across the country. Please tell your representatives that you support HR 4969 (find your rep here with your nine digit zipcode). You might also tweet Rep. Meehan to tell him you support for his bill—his Twitter handle is @RepMeehan. Washington should join together to pass HR4969 and protect our young athletes.
Sample tweet:
I support @repmeehan's bill on the dangerous mix of youth sports injuries, opioids and heroin. http://1.usa.gov/1T1uXNm