Safe Kids Day Reaches Parents and Children around the Country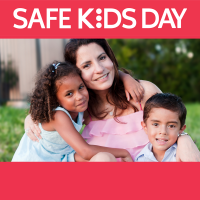 At Safe Kids Day in Palm Beach County, FL, a young middle school boy in a bright red Safe Kids Day shirt greets guests and passes out My High 5 booklets. He shows them where to get in line to pick out their free bike helmet. The boy has some difficulties speaking and seems shy. His mom explains how they began volunteering for their local Safe Kids coalition. One day, he fell off his bike, was not wearing a helmet, and suffered a traumatic brain injury. Now, he volunteers at his local Safe Kids Day every year because he wants all children to realize the importance of wearing a bike helmet.
Further down there are children dancing alongside DJs from a local radio station. Child passenger safety technicians help families determine if their kids are able to ride in a car without a booster seat. Children shriek and laugh as they play games that include messages about pedestrian safety, laundry room safety, water safety and medication safety. Parents are standing nearby, talking to injury prevention experts. The Safe Kids coordinator is being interviewed by the local news station.
Safe Kids Day's annual education and fundraising campaign teaches parents, caregivers and children about injury prevention. But this year, Safe Kids Day really grew on the local level. Partners from around communities joined together in celebration of keeping kids safe. Some, like Palm Beach County, held huge events with 2,500 people. Some held intimate events with 30 people. But with more than 200 events, Safe Kids Day succeeded in raising awareness of Safe Kids and educating parents and children about how to stay safe. This was an opportunity to reach families one-on-one with lifesaving information to bring about change in communities around the country.
We are very grateful to our platinum sponsors, including founding sponsor Johnson & Johnson, Nationwide, FedEx, and Tide. We also extend our appreciation to our gold sponsor, American Airlines and our bronze level sponsor, DEKRA for helping us make Safe Kids Day a huge success.
Here is what we accomplished:
146,000 participants
223 coalitions
219 events
41 states and Washington, D.C.
Thank you to all our sponsors who have made Safe Kids Day 2018 possible!