Safe Kids Start with Safe Homes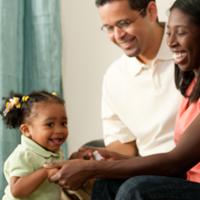 With people still talking about the Nationwide Super Bowl ad that brought dramatic attention to the number one killer of kids, preventable injuries, we're releasing new research that reveals the scope of the problem in a place most parents assume is safe: the home. Every day, six children die from an injury in the home, and 10,000 go to the emergency department for the kinds of injuries that commonly happen in homes.
New Research
With these injuries happening every day, we wondered how concerned parents are about safety in the home for their children, and what parents do to keep children safe. To explore these questions, Safe Kids Worldwide surveyed 1,010 parents with children ages 12 and under for our new research "Report to the Nation: Protecting Children in Your Home," a report made possible by funding from Nationwide.
Infographic
We've taken some of the most interesting facts from the research report and put them in graphic form in our newest infographic.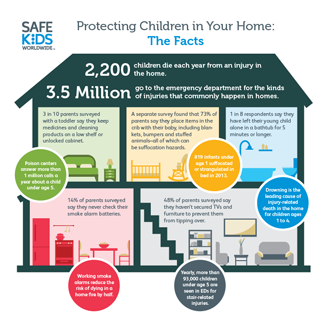 Personal Stories
Over the years we have met many parents and children who have had their lives changed due to an injury. Hearing their stories is often the most powerful way to learn about an issue. Here is a collection of four stories about injuries that happened in the home.
"I figured, as long as I am around, I can keep my kids safe. For the most part, this proved successful…until it didn't."
"I kept thinking, "Where did he even get this battery?" I never thought twice about allowing my children to play with remote controls."
"A nine dollar window guard," Jason says. "That's all it would have taken to protect my son. And I didn't even think about it."
"I think about Chance every minute of every day. I never thought this type of thing could happen to us."
ThingLink: How Safe Is Your Home?
Find out how safe your home is, using our new interactive home tour.
Gary on the Street
Safe Kids' Gary Karton takes to the street at Freedom Plaza in Washington, D.C., asking people what they think is the number one killer of kids in the United States.
Learn More
From everything we learned from surveying parents, we pulled together the following tips to help keep kids safe in the home.
Give young children your full and undivided attention when they are in the bathtub or around water.
Check smoke alarm batteries every six months to make sure they are working.
Keep cribs clear of objects, and make sure babies sleep alone, on their back, and in a crib every time they sleep.
Install window guards or window stops to keep children from falling out of windows.
Keep all medicine up and away, even medicine you take every day. Be alert to medicine stored in other locations, like pills in purses, vitamins on counters, and medicine on nightstands.
Public Policy Report
Making our kids safer in the home involves a partnership of families, the private sector, the healthcare community and public safety educators like Safe Kids. It also includes a role for governments at the federal, state and local levels. Smart public policy has made homes safer, and it can help lead to greater progress. We have developed a public policy analysis, which outlines the effective role that public policy can play in making the home a safer environment for kids.
Make Safe Happen
Child injury prevention is an issue that Nationwide has been passionate about for decades. They have convened the Make Safe Happen Advisory Council – a group of child safety experts, including Safe Kids – to work together to help reduce the number of childhood injuries and deaths from preventable injuries around the home.
Check out Nationwide's new website Make Safe Happen. Not only does it help promote the injury prevention cause and offer excellent information for families, you can also download the MakeSafeHappen app on the site.
More Tips
We have many more tips to keep your kids safe in the home on our tips pages.