SAFE KIDS WORLDWIDE - SPRING 2022 INTERNS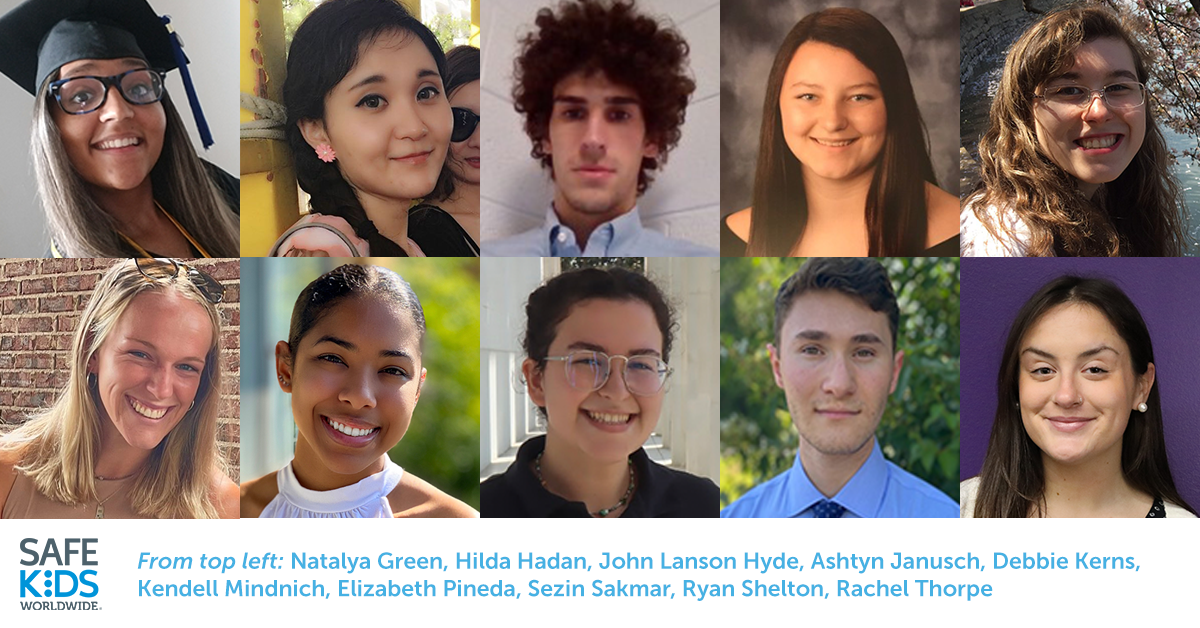 Safe Kids Worldwide is pleased to announce 10 interns joining our team this spring. These interns will be using their diverse experiences and educational training to help advance the organization's mission by assisting the Executive, Programs, Research, Network, and Development departments across various activities and projects. We are so grateful for their time, talent, and commitment to children. Meet our spring interns:
Natalya Green – Natalya is interning with the Programs Department. She graduated from University of Central Florida with a degree in Elementary Education and a minor in history before becoming a middle school Social Emotional Learning teacher. Natalya is currently a graduate student at the University of Florida, working toward her M.Ed. and Ph.D. in Educational Leadership with a concentration in Education Policy. She is passionate about establishing equality and equity in every classroom to ensure student achievement and educator success. Beyond academia, Natalya loves to travel, read, and spend time with her family and pets.
Hilda Hadan – Hilda is joining us again for the spring semester as an intern with the Research Department to continue her work on a project related our High-Risk and Underserved Strategy. She is a graduate of Indiana University - Bloomington (IU) with a thesis-based Master's in Informatics. She also holds a Master's in Information Systems and Bachelor's in Automation Engineering. Before joining Safe Kids Worldwide, Hilda was a Graduate Researcher at IoT Research Lab at IU where she published peer-reviewed research studies on human trust in smart cities and location sharing behavior and privacy concerns during the COVID-19 pandemic. She also worked as an Associate Instructor, teaching Python courses and mentoring student researcher projects, and previously interned for International Monetary Fund as a web developer. Outside of work, Hilda enjoys playing video games, reading, watching movies, and spending time with family and friends. She plans to pursue a Ph.D. in Canada, focusing on video game design and its application in therapy, children education, and security and privacy risk communication for children.
John Lanson Hyde - John is interning with the Executive Department. He is a sophomore at the University of North Carolina at Chapel Hill and is majoring in economics with a minor in statistics and business administration. John volunteers with Linking Immigrants to New Communities, where he teaches English to people from around the world. John is interested in consulting and helping his local community. In his free time, John enjoys hiking, basketball, and spending time with friends and family.
Ashtyn Janusch - Ashtyn is interning with the Executive Department. She is a senior at Texas State University and is completing her major in business management and her minor in art. Prior to joining Safe Kids, Ashtyn worked for a daycare where she took care of children between the ages of six-months and 12 years old. In that time, she realized she wanted to help kids any way she could. With her degree and the experience she gains from Safe Kids, Ashtyn plans to open an art studio for kids to help challenge their creativity. In her free time, she enjoys reading, painting, photography, and spending time with her family.
Debbie Kerns - Debbie is returning this spring to continue interning with the Safe Kids D.C. coalition. She is currently pursuing her Master of Public Health at Trinity Washington University. In 2020, she graduated from The Catholic University of America with a Bachelor's in Psychological Brain and Sciences with a minor in early childhood education. Debbie is passionate about improving the safety outcomes of children, as that is the population she wants to work with in the future. In her free time, she enjoys hiking, listening to true crime podcasts, and trying out new restaurants.
Kendell Mindnich - Kendell is interning with the Network Department. She holds a Bachelor's in Public Health with an emphasis on policy and administration from the University of Southern Mississippi. Kendell plans on beginning her graduate studies at the University of South Florida this upcoming fall where she will be working towards a Master of Public Health with an emphasis on health, safety, and environment. Her passions include working within communities to promote the best public health practices, improving safety outcomes of all populations, and educating prevention of unsafe practices within communities. She is thrilled to gain experience working with a nonprofit organization that focuses on health and safety. Kendell is currently working part time at a chiropractor office while coaching soccer. She was a five-year Division 1 student-athlete as a goalkeeper for the women's soccer team and currently holds numerous records at the program. During her free time, Kendell likes to watch sports, cook, be outdoors, and discover new hobbies.
Elizabeth Pineda - Elizabeth is joining us again for the spring semester as an intern with the Programs Department. She graduated from San Diego State University with a Bachelor's in Public Health and is currently pursuing her Master of Public Health at the University of San Francisco with an emphasis on community and public health practice. Before joining Safe Kids, Elizabeth was an intern for Susan G. Komen in San Diego, CA, and worked as a contact tracer during the pandemic for San Diego County. When she's not working, Elizabeth enjoys traveling and spending time with her dog, Daisy.
Sezin Sakmar - Sezin is interning with the Network Department. She is an undergraduate student at The George Washington University in Washington, D.C., studying anthropology, public health, and international affairs. As an EMT and a frequent volunteer with kids, Sezin is looking forward to seeing her passions for public health, children's issues, and the nonprofit sector all combine this spring. Outside of work and school, Sezin loves to travel, read, knit, and spend quality time with her loved ones.
Ryan Shelton - Ryan is interning with the Research Department. He graduated from James Madison University with a Bachelor's in Health Sciences and is currently pursuing his Master of Public Health at George Mason University with an emphasis on global health. Before joining Safe Kids Worldwide this spring, Ryan was a Health & Safety Intern at ST Tissue LLC where he promoted occupational health and safety measures. He also was a Teacher Assistant in the Health Sciences Department at James Madison University, collaborating with professors in public health topics such as U.S. & Global Health Systems and Social Determinants of Health. In his free time, Ryan enjoys playing the saxophone and piano, watching sports, and spending time with friends and family.
Rachel Thorpe - Rachel is interning with the Development Team. She is currently attending West Chester University where she is pursuing her Bachelor's in Media and Culture with a minor in graphic design. Rachel is passionate about raising awareness for childhood safety. She has worked with nonprofits in the past, which led to her interest in interning at Safe Kids Worldwide. She has previously held the title of Director of Marketing for the West Chester Consulting Group. Rachel enjoys volunteering and participating in community service activities with her national honor fraternity, Phi Sigma Pi. Outside of school, Rachel enjoys working out, reading, going to the beach, and spending time in nature.