SAFE KIDS WORLDWIDE - SUMMER 2022 INTERNS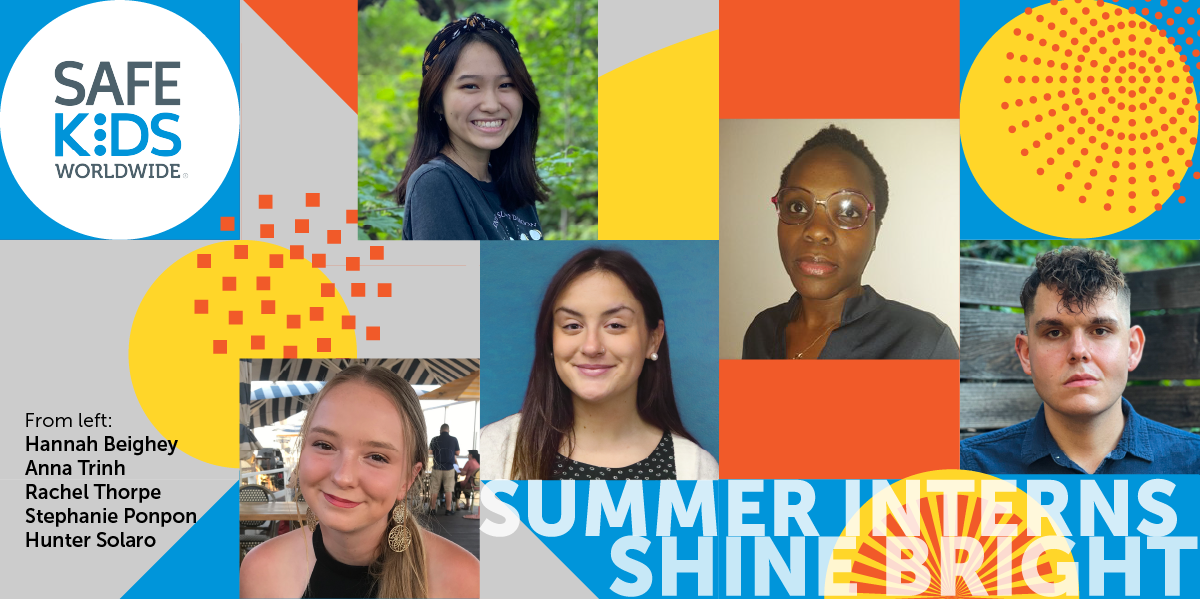 Please join us in welcoming our summer interns! This latest group comes to Safe Kids from a variety of academic backgrounds, including public health, political science, education, health administration, communications, and psychology. Over the next several weeks, our summer interns will put those unique skills and perspectives to use to help advance our mission across various activities and projects. We are excited to have them with us, and we thank them for choosing to spend their summer with us.
Hannah Beighey: Hannah is interning with the Executive Department. She is a senior at Gonzaga University and is majoring in Political Science with a minor in Special Education. Prior to Safe Kids, Hannah worked with kids in various capacities such as student teaching, tutoring, and being a camp counselor. During her time in these positions, she fell in love with helping children. Hannah has a special interest in advocacy for children and families centered around education, which she hopes to pursue following her graduation. In her free time, Hannah enjoys baking, watching football, traveling, and playing with her dog, Georgia.
Anna Trinh: Anna is interning with the Research Department. She is a junior at Rutgers University at New Brunswick and is majoring in Public Health with a minor in Spanish. Anna is looking to pursue an interest in epidemiology and women's health. She is passionate about improving the safety outcomes of marginalized populations and working within communities to promote better public health practices. During the school year, Anna volunteers with her service organization at food pantries and soup kitchens around the New Brunswick area. In her free time, she enjoys drawing, reading, playing video games, and hiking with her family.
Rachel Thorpe: Rachel is interning with the Marketing and Communications Team. She recently graduated with a bachelor's degree from West Chester University, majoring in media and culture with a minor in graphic design. Rachel is passionate about raising awareness for childhood safety. She has worked with nonprofits in the past, which led to her interest in interning at Safe Kids. She previously held the fundraising intern position at Safe Kids. Rachel enjoys working out, reading, going to the beach, and spending time in nature.
Stephanie Ponpon: Stephanie is interning with the Programs Department. She previously served in the military and is currently pursuing her Master of Healthcare Administration at the University of North Carolina at Charlotte. While at Safe Kids, Stephanie will assist with various projects and tasks, including the Child Passenger Safety (CPS) Certification Program and the Safe Kids Worldwide Global Alliance Newsletter. In her spare time, Stephanie enjoys spending as much time as possible outside with her family and friends.
Hunter D. Solaro: Hunter is interning within the Executive Department assisting with projects related to the Safe Kids in Automated Vehicles Alliance. A senior at West Virginia University pursuing a major in Public Health Sciences with a minor in psychology, Hunter plans to attend the University of Washington in Seattle for a master's in environmental health with an emphasis in Occupational Health. Prior to Safe Kids, Hunter volunteered for organizations such as California Waterfowl Association, Depression & Bipolar Support Alliance WV, and future student work at the National Institute for Occupational Safety & Health. In their free time, Hunter engages in a wide assortment of activities, including computer assembly/design, swimming, gardening, and apparel creation/sewing.