Shane's Furniture Tip-Over Story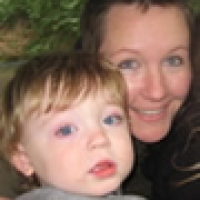 Sadly, between 2008 and 2010, over 22,000 children age 9 and younger were injured by preventable furniture tip-overs or instability. Lisa Marie, a parent advocate who has been working with Safe Kids, graciously shares her heartbreaking story of her son Shane.
"Love you," I had said to my baby boy, Shane. "Love you," he said back from his bed as I closed the door to his bedroom for his afternoon nap. Later, I went to wake my baby from his nap as my husband came in from yard work. My husband heard a sound that was unrecognizable - my screams. My baby's dresser had fallen on him. Shane was only two years, one month, five days old when he died.
Please secure your furniture. This story would be quite different if we had known the safety hazards associated with the dresser. Or better yet, if my son's dresser/changing table had come with a strap to secure it. When parents buy new furniture, a TV or even children's furnishings, it's unlikely that a safety strap or anchor will be included. Manufacturers are not required to include any safety strap or anchor nor are the vendors required to sell them. Short furniture is just as dangerous as larger pieces. The changing table/dresser that took Shane's life was only 35" tall.
Tip-overs are "one of the most dangerous hidden hazards in the home" according to the Consumer Product Safety Commission. While tragedies involving falling furniture or televisions are not uncommon, there are measures that can be taken to remove the risk. Simple furniture safety straps may be purchased online, from large baby retailers or select hardware stores. Securing your furniture with safety straps requires only a few dollars and is not difficult.
Nearly 70% of all reported tip-overs are televisions. Regardless of the type, whether it's a large flat screen or old tube style, if you don't have it secured correctly, it can fall and injure or kill your child.
In addition to securing the furniture in your own home, be mindful of anywhere your child spends time, such as grandparent's homes, day care centers or even your gym's nursery. Sadly, one child dies every two weeks from these preventable accidents. Here's what you can do to prevent tip-overs.
More About Home Safety