Simple Steps to Safe Medicine Storage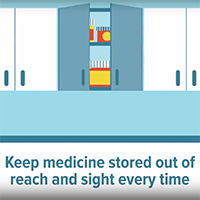 Whenever we talk about how to store medicine safely, it always comes back to one thing above all – the importance of keeping medicine up and away and out of reach and sight, every time. And when we spoke to parents this past year for our latest research report on the topic, we found that by and large, parents know that, with 9 in 10 agreeing that it's important to store all medicine up high and out of reach after every use. However, nearly 7 in 10 parents reported that they aren't actually doing so. Could that be because parents weren't sure what "out of reach and sight" actually means?
We're launching our newest video, "Simple Steps to Safe Medicine Storage" to help illustrate how to keep medicine safe at home. The video takes a look at exactly what it means to store medicine out of reach and sight while offering up other important medicine safety tips for parents and caregivers.
If you have friends or family who need a quick reminder on the importance of safely storing medicine, share the video on your own social media pages. You can also check out our med safety infographic for more findings and tips from our recent research.
For all our medicine safety tips, click here.
The Safe Kids Worldwide medication safety program was developed with support from Johnson & Johnson Consumer, Inc.