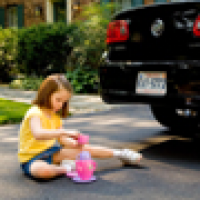 The worst news you can hear involves the death of a child. It's only more upsetting when that death might have been prevented.
This spring, Nedao Abdelghani of Bridgeview, IL died after a relative backing out of a driveway backed over him. He was three years old.
"Back-overs" and "front-overs" are not new. When I was in high school, our neighbor ran over her daughter while she was sunbathing on the driveway. She was hurt very badly and, to this day, has a memory just as painful. Hard to call her "lucky," but families who have lost a child this way would.
Nearly 7 children, ages 1 to 14, go to emergency rooms each day with injuries sustained from a vehicle backing up. Of that group, an average of 230 die each year according to the Centers for Disease Control and Prevention (CDC). With school out for the summer, kids are everywhere: playing in driveways, cul de sacs, sidewalks…. It's also light outside later, extending play time well into evening.
Safe Kids actually has a program geared toward preventing these tragedies called Spot The Tot. Now is the perfect time to pick up these common-sense, low-tech habits:
First, realize that blind spots behind cars are more like blind tunnels. Consumer Reports measured the blind zones behind hundreds of vehicles using both short and tall drivers. Here's what they found:

Sedans: 12 - 24 feet
Minivans: 15 - 26 feet
SUVs: 13 - 29 feet
Pickup trucks: 23 - 35 feet (longer than some driveways)

Before you get in the car and start it up, walk all the way around the parked vehicle to make sure children are not under or behind it. Older kids can help.
Identify a safe play area with your child that's far from parked or moving vehicles.
Firmly hold the hand of each young child with you when around moving vehicles, driveways, parking lots and sidewalks.
Don't use driveways as play areas.