Summer Heat Calls for Action to Protect Young Athletes on Sports Fields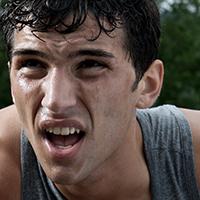 This blog was written by Akhil Reddy, Safe Kids Public Policy summer intern.
August football practices at my old high school in Houston mark the beginning of a grueling, competitive season. In fact, every summer, teams around the country start holding preseason practices to prepare for the upcoming games. However, high temperatures present a serious threat to the lives of young athletes.
Exertional heatstroke (EHS) is a heat-related medical emergency that is the third-leading cause of sudden death in high school athletes. Unlike classic heatstroke, which typically only affects young children and the elderly, EHS frequently impacts healthy, active athletes.
In 2017, 14-year-old Dominick Bess looked to have a bright future. An ambitious student, he planned to join Mount Saint Michael Academy's freshman class on an academic scholarship and had even made the Bronx school's JV football team. That summer, Dominick was ecstatic about the start his preseason workouts.
His second day of practice began much like the first, but as Dominick went through routine sprints at 9:30 AM, he collapsed and was pronounced dead at Montefiore Medical Center in the Bronx. Dominick and his team were to participate in a "two-a-day" despite the heat and humidity making it feel like 100 degrees.
With 83.6 percent of high school football heat illnesses occurring during practice, high schools must take the necessary steps to protect their players. This investment in safety is not a huge one. It involves purchasing a wet-bulb thermometer and an ice tub – and finding ice for practice on hot days is not a significant challenge. And the return on investment? Heat-safety experts stress that even the most severe cases of heat illness have a 100 percent survival rate if immersed in ice within 5-10 minutes of a medical event.
In Florida, the death of Zach Martin, a 16-year-old Riverdale High football player, who died of EHS last year, serves as another ever-present reminder of the dangers of heat illness. Zach's mom, Laurie, has become a dedicated advocate for EHS precautions in high schools. Safe Kids Southwest Florida worked with Laurie in strongly encouraging the Florida High School Athletic Association (FHSAA) to require these inexpensive, life-saving safety measures on the sidelines of practices and games. However, the FHSAA ultimately went against the recommendation of medical professionals and mandated a heat illness prevention course for athletes and coaches instead of ice tubs and thermometers.
This decision frustrated many, especially Zach Martin's family, who started a foundation in his name to combat heat illness. Nearly a year after his death, Zach's school district, Lee County, announced that all 14 of its high schools now have ice tubs. But, are enough schools around the country paying attention?
Heat illness is preventable. Let's make this a reality so proud parents can cheer on their kids from the bleachers without having to worry about the dangers of the summer heat.
---
Akhil Reddy, a public policy intern at Safe Kids, is a rising junior majoring in Bioinformatics at the University of Pittsburgh. He grew up in Houston, Texas.