Supporter Spotlight: Consumer Electronics Association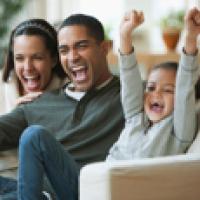 Safe Kids and the Consumer Electronics Association (CEA)® are teaming up to raise awareness about the risks of unsecured TVs tipping over in the home and to educate parents about the simple things they can do to keep their kids safe. Sadly, every three weeks a child dies from a television tipping over. And every 45 minutes a child is injured.
Thanks to the support of CEA, the U.S. trade association representing more than 2,000 consumer electronics companies, Safe Kids launched National TV Safety Day. Together, we're asking families do a quick check of their homes to make sure all TVs are safely secured and properly placed.
It's particularly important to check the older, bulky TVs, which are often placed on high furniture and can be a major risk for young children. Safe Kids and CEA are encouraging parents to either move heavy TVs to a low, stable piece of furniture or, if you don't use them anymore, consider recycling them. Our video, Special Report: Recycle Your TV provides all the inspiration and information you will need.
Our partnership with CEA is just another example of how industry and safety educators can work together to make our homes safer, especially when it comes to preventing injury involving our kids. We are grateful for CEA's commitment and for sharing our passion for keeping kids safe.