Take Action Against Distraction Contest Winner Announced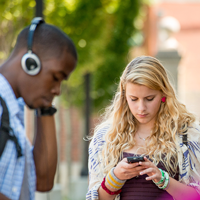 It's no secret that teens and pre-teens are often distracted by technology: texting, listening to music, playing games. This becomes a particular safety issue when students cross the street while distracted. In fact, last year alone 274 kids ages 10-19 were killed while walking.
How do we get these teens to listen to safety tips? It's definitely a challenge. We turned to the teens themselves to ask how they would do it. And that's how the Take Action Against Distraction Contest was born.
In the fall of 2014 Safe Kids and FedEx issued a challenge to middle school students across the country. How would you tell your friends to put down their devices while crossing the street?
We received amazing entries from all across the country, but one video really stood out.
The winner of the 2014/2015 Take Action Against Distraction Contest is Patterson Park Public Charter School from Baltimore, Maryland.
Our Safe Kids video crew went to Baltimore and worked with the students to recreate their winning video with professional equipment and expert help from a music video director from Hollywood.
The kids at Patterson Park were passionate, creative and truly amazing to work with. It's great to see such positive energy from children, and particularly heartening that this video was shot in Baltimore the week before the riots in that city. These kids worked very hard to create a video that could help other kids around the country, and the world.
Check out the winning video below.