TAKE ACTION! Flint, Michigan Kids Need Safe Water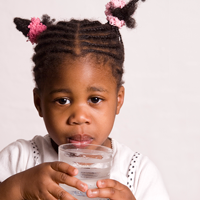 Our children are entitled to drink and bathe in clean water. As we've read about in the news, the children of Flint, and all residents, don't have access to clean, safe drinking water.
Lead is a clear and present danger to children. Even low levels of lead exposure can adversely affect a child's behavior, intelligence, mental development, as well as their health. Children in Flint who have been tested show an unacceptable level of lead in their bloodstream. Something must be done in order to protect Flint children and get them desperately needed clean water. The senators from Michigan, Debbie Stabenow and Gary Peters, are offering an amendment to the bipartisan energy bill that would provide up to $400 million to the Environmental Protection Agency to fix Flint's water infrastructure.
What can you do? Please ask your senators to support the Stabenow/Peters amendment.
Find them here. Keep it brief. (See sample below.) Ask them to support this important amendment so we can help keep the children of Flint safe and provide them with the clean drinking water they deserve.
Dear Senator:
Flint, Michigan kids need help in this water crisis. Please support the Stabenow/Peters Amendment.


Help us take action today!