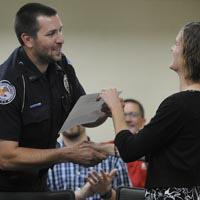 Lessons Learned From a Near Tragedy
From his pictures, Dustin Gessert looks like he and actor Bradley Cooper were separated at birth. But Gessert, an officer with the Wisconsin Rapids Police Department, made his own headlines recently as the leading man in a rescue story.
On an 85-degree day at the end of May, Officer Gessert was responding to an unrelated child welfare 911 call when he came across what could have been a tragic situation.
He had to look twice before he saw the small boy, left alone in a car. Officer Gessert brought the boy into a neighboring home and cooled him off in an air conditioned room.
The boy's mom later said her son had been sleeping when they arrived at home, and she didn't want to wake him. But that's dangerous, because a car can heat up quickly. The temperature inside of a car can rise 19 degrees in just 10 minutes, and continue to climb from there – even on a mild 70-degree day.
Thanks to Officer Gessert's rescue, the boy survived.
Our Safe Kids Wood County coalition in Wisconsin awarded Officer Gessert our Badge of Courage for what our coordinator in Wood County, Tyler "Ty" Zastava, said almost certainly saved the child's life. "In the sun, 20 minutes in the car can lead to 109 degrees or hotter," she added.
Modesty reigned in Wisconsin Rapids. In accepting the award, Officer Gessert said the person who really deserved the award was the citizen who called 911 about another child's welfare. But the caller wanted to stay anonymous.
In a survey about heatstroke, people told Safe Kids that they are hesitant to get involved by calling the police because they fear a confrontation with the parent or even a civil lawsuit.
If you call 911 and want to stay anonymous, that should be your right. The important thing is to press those three numbers: 9-1-1. Don't let the possibility of a lawsuit stop you from acting. Most states have a "Good Samaritan" law, which provides legal protection to people who voluntarily give assistance to others in distress. There's a Good Samaritan law in Wisconsin, and we've collected those laws in the states most likely to see a heatstroke tragedy as part of our law tracker.
Our lesson from this good news story is not only that Dustin Gessert is a good guy, but also that a bystander can save a child's life. If you see a child left behind in a car, do something: call 9-1-1.
Know someone in your community who has taken action to save a child's life? Nominate them for a Safe Kids Badge of Courage Award.
Photo Credit: Casey Lake | Wisconsin Rapids Daily Tribune