Take The Suspense Out Of Shopping For Your Children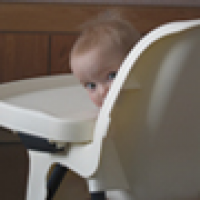 Suspense may be important in a movie, but not when you are buying products for your young children. A high chair, crib or even a swing set for the back yard can be among the most important investments in your career as a parent. But there's a way to take the suspense out of shopping.
And that's by paying special attention to product recalls. A small fraction of products sold are taken off the market,usually in cooperation between federal agencies and the companies that make them. Some of them are for kids.
Safe Kids compiles a bimonthly list of recalled products,and there are other ways to check for recalls, even with an app on your cell phone. (See below.)
Examples of recalls over the last two weeks demonstrate why it is so important to keep up with child product recalls. One of the products was a Flexible Flyer Swing Set manufactured by Troxel. It was recalled, in cooperation with the company, because the seesaw seats can break away from the bolt fasteners during use, making it very possible for a child to fall off. The company received 1,232 reports of seesaw seats breaking. The defect resulted in thirteen injuries to young children, which included bumps, bruises and lacerations.
Another example was the recall of high chairs manufactured by the Chicco company (with the company's cooperation) because of a defect involving the pegs on the rear legs of the product. There were at least 21 examples of falls from the chair including four laceration injuries requiring stitches (or similar procedures)and one child sustained a scratch to the cornea.
Something you buy for your children is an investment in their safety and future.
Here are some resources to stay on top of recalls: