Taking Childproofing to a Whole New Level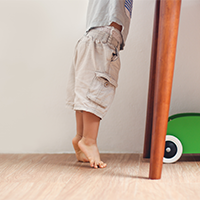 Apparently, I am now the father of a "bigger" little kid. Recently, my daughter made this distinction perfectly clear to us, not with her words but by testing and expanding her boundaries (and her parents' anxiety). And, they both get pushed to their limit.
But, through this new period in our child's exploration, we learned that, though we had done a good job of preparing our house to keep her safe so far, we had to take our home safety prep to another level, quite literally.
Home Safety tips for your "bigger" little kids
Keep Medicine Up, Away, and Out of Sight. What you thought was not in "line of sight" has now become front in center thanks to the new talent of climbing and "tippy-toes." So, in all occasions, the best thing to do is to move all medicine up into cabinets, away into drawers, and out of sight of your suddenly taller little one. This is an important tip to start when kids are infants but even more important now.
Keeping a Safe Zone around the Kitchen. Remember when you got that step stool to help your kids brush their teeth and wash their hands? They have quickly learned that you can move that stool to anywhere in the kitchen. Fantastic, right? After praising your kid for their ingenuity, keep them safe by designating a "Hot Zone" around the stove/oven area where step stools are not allowed. But, maybe compromise with a designated place where a little helper chef can mix and add ingredients.
Secure all TVs either up on the wall or with safety straps. An early morning episode of Sesame Street became surprising when our bigger" little kid went up to the TV to give Elmo a high-five. The TV tipped backward more than we realized and, had it not been for the TV straps, might have fallen on us and her. Relieved and with the blood soon returning to our faces, we knew that the couple of minutes it took to secure our TV was totally worth it.
It is a fact that parents try to do the best they can to get ahead of situations that can be potentially unsafe for their kids. But, often, our kids show us that they are starting to grow beyond what you prepared for. Great! - Now is the perfect time to get up and take our parenting to a whole new level.
---
This blog was written by a former employee.