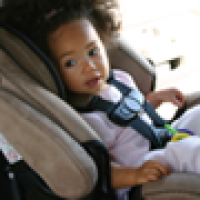 With the holidays quickly approaching, now is the time to make final arrangements for vacations and travel. As a CPS Technician, I get asked all kinds of questions about the safest way to travel. I always tell caregivers that being tech savvy is more than just the latest gadgets; it's also knowing best practices for keeping your child safe while riding on a plane, on a train, in a car or any other form of transportation!
Now is the perfect opportunity for you to get the most up-to-date information on travel safety. You just can't beat being empowered with knowledge; whether it is from a one-on-one car seat checkup, or being sure you got the latest information on how to buckle in your kids on a plane or on a train.
I am amazed at how much more common it is to see car seats at airports—and being used on the plane! Times have definitely changed for the better. I applaud all the parents out there who are taking steps to be sure their kids are just as safe on vacation as when they are at home. My sister buckles up my nephews in high back boosters so she bought backless ones for their trip into Mexico. I have to admit, my smile was pretty big when she told me about it.
So, when you are online, or trudging through the mall, looking at all the latest and greatest tech gifts this year, take a moment and be tech savvy when it comes to travel.
More About Child Passenger Safety