Teens Join Together to Promote National Teen Driver Safety Week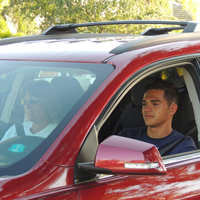 The statistic still stands true today.
Road traffic injuries are the leading cause of death among young people ages, 15-29 years.
It all comes down to perspectives. How we view the situations we encounter in life. I stand today as a current college student, and safety advocate. I choose to view teens (my peers), as individuals who can drive change across the nation. Why? We make up 100% of the future, and we can come together to influence each other to buckle up and save lives!
It is shocking to know that there were 4,485 crashes involving a teen passenger or driver in 2015, which is a 10 percent increase from 2014.
One of the most important steps anyone riding in car can take is to buckle up. That stands true no matter how far you go or where you are going. Yet, almost half of teens involved in car crashes in 2015 were unrestrained. Before we can save lives, we all have to understand why we have so many people not buckling up.
As part of National Teen Driver Safety Week, October 16-22, I would like to introduce a few teens who are joining with Safe Kids to encourage other teens to buckle up every ride, every time. Skylar Yoder, Stanzi Hay, Lizzie Shutt, and Keaton Campbell. They understand the important role teens have in reducing road traffic crashes.
Throughout National Teen Driver Safety Week, each of these teens will share their perspectives about teen passenger and drivers' safety on the Safe Kids Worldwide social media channels. Social media is a powerful tool to reaching teen audiences, so we are excited to see the unique outlook that these teens will bring.
Every teen has the power to influence change. The power lies in consciously making a decision to make buckling up a priority in the car whether a passenger or driver.
Make sure to follow Safe Kids on Facebook, Twitter and Instagram (@safekidsworldwide) to hear from these teens about the importance of buckling up.