Teens on the Move: Why are so Many Teens Getting Hit by Cars?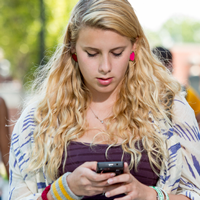 One of the most interesting aspects of working at Safe Kids is that we get to play "detective." If we see a statistic we find alarming, like that every hour of every day a teen is hit by a car and killed or injured in the U.S., we get to try to figure out the five W's, who, what, where, when and why. Last year, we discovered that the pedestrian death rate for teens is twice that of younger children, so we enlisted our coalitions to go to schools and observe what teenagers were doing that could cause these deaths. We found that 1 in 5 high school students and 1 in 8 middle school students were observed crossing the street while distracted by technology.
This year, we took our detective role one step further. We surveyed 1000 teens ages 13-18 to understand more about their walking habits: what they're doing and why.
Here's what we found.
New Research
With the support of FedEx, we recently released a new research report, "Teens on the Move" with results drawn from a survey of 1000 teens ages 13-18. We asked students about their own walking habits and what their peers do. Forty percent of teens told us they had been hit or almost hit by a car. Half of teens surveyed told us they text while walking.
This is just scratching the surface of what we learned from these teens. For more insights from what teens told us, check out the new research report.
Infographic
We also have a brand new infographic that breaks down all the interesting facts and figures from what teens told us about how they walk to school.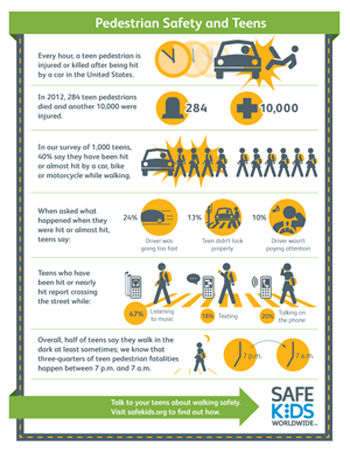 Gwen's Story
Last year we met Gwen, an inspiring woman who is working to keep her daughter's legacy alive by spreading the message about the dangers of walking while distracted. Gwen tells us about the day her 15-year-old daughter, Christina, was killed by a car and how she is working to prevent this tragedy from happening to other families.
Watch Gwen tell her story, then join us in the Moment of Silence campaign that we started in honor of Christina and the thousands of kids each year who are injured or killed while crossing the street.
Moment of Silence Video
Watch this inspirational video that encourages everyone to observe a moment of silence, by putting down devices and paying attention when crossing the street. The video honors Christina, and all the teens who are killed by cars while walking every year.
Moment of Silence Pledge
Join the Moment of Silence campaign by committing to putting devices down when you cross the street. There is a pledge for both parents and teens on Facebook. Share with your family and friends to spread the message. Learn more about it.
Learn More
While being a detective is fun on its own, the main reason we do it is to help keep kids safe. From all we've learned by observing teens and surveying them, we've developed the following tips to help keep teens, and all of us, safe while walking.
Put down phones and headphones when crossing the street.
Make eye contact with drivers before crossing.
Be especially alert when it's dark out, and make sure you're visible to drivers.
Cross at a traffic signal or crosswalk, when possible.
More Tips
For more information see our tips page.