Top Four Lessons Learned from My Internship at Safe Kids Worldwide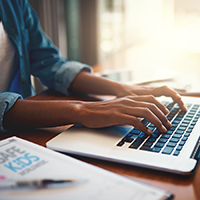 This blog was written by Alisa Hardison, Safe Kids Global Network fall intern.
During the Fall of 2018, I worked at Safe Kids Worldwide as the Network Intern. While the work was challenging and emotional, I learned four important lessons that I will take with me wherever I go in the future.
Don't be afraid to speak up. As a shy person, I've always had a hard time finding the confidence to voice my opinions, especially on topics that I am not as familiar with. However, by sitting in on meetings at Safe Kids, and listening to the comments people make, I realized many of my ideas would have been beneficial to the discussion. While I didn't speak up as much as I should have, this internship did allow me to observe the importance of having various viewpoints on a topic and how sharing those points contributes to a better end product.
Research is important. Here at Safe Kids, I performed research on various topics from online fundraising and chat platforms to top restaurants in Bangkok, Thailand. While I have always been a detail-oriented person, during my internship, I was able to see how that thoroughness truly pays off. Because I gathered as much information as I could on every research topic, I was ready to answer any questions from my bosses or coworkers. I was also able to see how my research was influential in making critical decisions.
Conventions require planning. In past jobs I have been involved in planning events, but never anything in another country, or for more than 200 people. However, by participating in some of the planning of both the World Injury Conference that took place in November 2018 in Bangkok and the upcoming Safe Kids Childhood Injury Prevention Convention in July 2019, I was given a small window to see the immense level of work that goes into making these events happen. It allowed me to see how every department comes together and how everyone's role is significant.
Safe Kids performs amazing work. Before my internship I was not aware of the relevance of child injury prevention or the work that Safe Kids performs. Throughout my time here, I have seen countless examples of how Safe Kids coalitions in the United States and partners around the world are truly making a difference in saving children's lives. I will now leave having more knowledge on the seriousness of preventable child injuries and feeling grateful for working with people who make it their mission to keep kids safe.
---
Alisa interned at Safe Kids during the fall semester of 2018.