Top Four Recall Stories of 2019 and 3 Ways Parents Can Stay Informed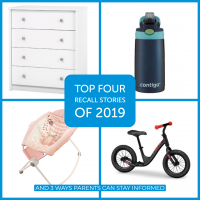 One of the best ways for parents to keep kids safe is to pay attention to news about product recalls. At Safe Kids, we try to make it easy for you. In case you missed them, here are the top 4 recall stories of 2019 and 3 tips on how to make sure the products you buy for your kids are safe.
Bikes

More than 30,000 units recalled
Bikes are a common holiday gift but many bikes were recalled in 2019 due to "fall and injury hazard." Most, if not all, manufacturers offer to repair recalled bikes or send a repair kit to consumers. Safe Kids advises that everyone wears a properly-fitted helmet whenever your family rides a bike and that you ride together until you are comfortable that your kids are ready to ride on their own.
Dressers

More than 18 million units recalled
Parents want to know that the home furniture they buy is safe. But, the risk of furniture tip-overs and entrapment is still a serious preventable injury that unfortunately happens far too often. Over the past several years Ikea recalled more than 17 million dressers and the danger continued into 2019 with other manufacturers, including Costco and Ridgewood, recalling dresser units due to risk of tip-over and not complying with performance requirements for safety.
Companies have offered free anchoring kits to allow parents to use the units. Safe Kids recommends using anti-tip brackets, braces or wall straps to secure furniture to the wall. Install stops on dresser drawers to keep them from being pulled all the way out.
Water bottles

More than 5.7 million units recalled
In August 2019, Contigo recalled 5.7 million kids water bottles because the "bottle's clear silicone spout can detach, posing a choking hazard to children." Many kids all over North America, Canada and Mexico used these water bottles in school or daycare centers on a daily basis. Contigo offered parents a repair kit and replacement lid through its website.
Safe Kids encourages children to stay well hydrated by bringing a water bottle to practice and games and drinking plenty of water before, during and after play.
Rock N Plays | Inclined infant sleepers

over 4.7 million units recalled
This was the biggest recall story for parents this year. Inclined infant sleepers were a common parenting device used in homes across the world. When Fisher-Price finally recalled their popular "Rock n Play" infant sleepers in April of this year after reports of up to 70 suffocation deaths. This sent shockwaves to parents and manufacturers. The American Academy of Pediatrics (AAP) guidelines for creating a safe sleep environment recommend that babies sleep on a firm, flat surface in their own crib, bassinet or play yard. An inclined infant sleeper does not follow these recommendations and therefore increases the infant's risk of suffocation. Now, the CPSC has recommended banning these products from the marketplace. To this day, retail outlets and especially online stores still sell them. Our recommendation to all parents is to avoid using these products instead follow AAP guidelines for a safe sleep environment for naps and at night. For more information about safe infant sleep, check out these tips
How to Know If Products You Buy are Safe
One lesson we can take from these recalls is that there are steps parents and caregivers can take to know if products are safe or if they have been recalled.
Watch out for counterfeit products. Be sure to do your research on products and watch out for "too-good-to-be-true" product prices and deals. Many third-party manufacturers and sellers claim to be selling the real thing. In reality, they are selling defective knock-offs, which have not been tested or regulated.
Follow product safety channels. Both Safe Kids (@SKWAdvocate) and The U.S. Consumer Product Safety Commission (@USCPSC) provide updates and news of recalled products on Twitter. Follow both organizations and get news as soon as it breaks.
Get recall news sent to you. You can also sign up for our Safe Kids recalls newsletter that lists the recalls that your family needs to know about on a monthly basis. The newsletter also provides examples of how laws and advocacy are making an impact across the country.