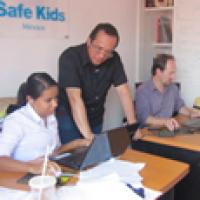 I was in a 7-by-10-foot room in Coyoacán, Mexico City, when Paco saw the tweet.
"A child was hit by a car in Mexico City this morning," he announced, and I heard the combination of frustration, sorrow and exhaustion in his voice.
Paco is the executive director of Safe Kids Mexico. He is a recognized leader in road safety. He is as innovative as he is compassionate, and he is completely dedicated to helping children in Mexico.
"Quién? Cómo? And what can we do?" asked the Spanglish-speaking American visitor (that would be me).
But even as I sprang from my chair, I knew the answer to my question: We were doing everything we could with the resources we had available. And although the news from the tweet was tragic, it was not surprising.
In Mexico, six kids die every single day on the roads, and dozens more are injured. Can you imagine learning that a child in your neighborhood died on the walk to school? And then hearing that another child died the very next day? Unfortunately, it happens far too often in Mexico.
But it doesn't have to.
Safe Kids Mexico was launched six months ago to change this reality. The entire organization is made up of Paco and two other people, Alma and Jorge, who are equally dedicated to the children in their country. Together, they work tirelessly with the limited resources they have. They share a small office, which is crammed with four desks and has no air conditioning (in 85 degree weather), to ensure that most of every dollar goes toward their programs.
I have been committed to improving the lives of the most vulnerable since the first time I visited my extended family in Nepal at age 13. There, I saw firsthand the hard realities of living in a developing country. Knowing that road traffic injuries kill more children ages 5 to 14 around the world than malaria, HIV/AIDS or tuberculosis, my work in global road safety at Safe Kids Worldwide is a perfect fit. As part of my job, I am in Mexico for two weeks to help with program development and to learn about all the challenges and opportunities in the country.
It doesn't take long to understand that the task for my colleagues in Mexico is not an easy one. First, road safety is not a "sexy" topic and is not a priority for many important decision makers. Second, there is no "safety culture" in Mexico, so persuading parents to use car seats, pedestrians to cross at crosswalks, police to enforce road rules or drivers to follow the speed limit is a challenge, to say the least. Finally, being a new organization in the country requires a significant amount of effort to build reputation and garner trust from partners and community members.
In many ways, when it comes to child passenger safety, Mexico is where we in the United States were 25 years ago. The good news is that for the first time in history, the government of Mexico recently passed a federal law mandating the use of car seats in vehicles with passengers under 5 years old. This is a big step in the right direction, but it's still far from what is needed to protect children riding in cars.
Still, the Safe Kids Mexico team of three is doing everything right: engaging the community, working with stakeholders to raise awareness and knowledge about road safety, making improvements to the walking environments around schools, and advocating for better child passenger safety laws.
For two weeks, Paco, Alma, Jorge and I worked 12-hour days, with still so much to do the next day, and the day after that, and the day after that. And just when you feel like you're making a little progress and you want to take a break, you look out the window and you see a car driving by with a mother holding her infant on her lap, or you witness a kid riding a bike on a busy road with no helmet, or you get a tweet about an innocent child being hit by a car.
This is the reality for my counterparts around the world: limited resources but so much opportunity to make a difference. I am back in Washington, D.C., even more inspired by people such as Paco, Alma and Jorge.
Every child around the world should get the chance to grow up and follow his or her dreams, just like I did. Let's support these kids as if they were our own.
Ways you can help.