Watching Out for Military Families and Others Living in Federal Housing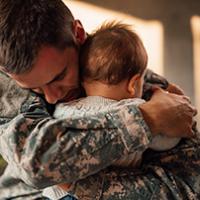 Our mission at Safe Kids is to protect kids from preventable injury, many involving risks in the home. Parents should have the power to prevent such child injuries. Recent developments led us to take action to make sure parents have the power to protect their families when their house or apartment is under the control of the federal government.
Safe Kids and its coalitions acted in the following two situations involving federal housing.
Deplorable Conditions in Military Housing
Consider the case of the Brown family: Stationed at Fort Benning in Georgia, Cale Brown settled his family at the Villages of Benning. He's an Army Colonel who served two tours of duty in Afghanistan and earned two Bronze Stars. The Browns' son, John Jr., began to experience troubling symptoms at 18-months-old. He woke up screaming, refused food, forgot most of the words he had learned and did not respond to his name. What was wrong was a mystery. Then, testing revealed more than 100 spots in the home with lead paint, some peeling and crumbling. Turns out that there were families like the Browns on or near bases all over the country.
An independent group, the Military Family Advisory Network, is credited for bringing the issue forward, resulting in a February hearing of the Senate Armed Services Committee. At the hearing, Senators heard about military housing infested with rats, bats, roaches and termites; lead paint and lead in water; non-functional HVAC systems and contaminated water. Much of the problem was connected with a program that put military housing in the hands of private contractors. On a bipartisan basis, Senators expressed concern. Senator Martha McSally (R-AZ), a former Air Force pilot, said, "Instead of being partners with our troops to make sure our way of life is kept safe and free, the [private sector housing contractors] left you hanging." Senator Tim Kaine (D-VA) called the situation "shocking." The Pentagon pledged action to improve conditions and it is working on a military tenant bill of rights.
More than 100,000 children under age 5 live in military housing. This led 12 Safe Kids coalitions to join together in a letter urging the Senate to prioritize the dire need to improve military housing. Our coalitions said, "If a woman or man in uniform is deployed to a perilous part of the world, one thing they should not have to worry about are the living conditions of their spouse and children."
No Rule at HUD Requiring Carbon Monoxide Detectors in its Housing Units
In January, there was a child-related near-tragedy at the Allen Benedict Court HUD public housing development in Columbia, South Carolina. Two older tenants died from carbon monoxide poisoning and then KinTerra Johnson and her three daughters (all under 8) came close to being poisoned by CO that had pervaded the complex. Ms. Johnson evacuated her kids at 3 a.m. in January of this year. The largest populations of HUD residents are families with young children and senior citizens; the populations most vulnerable to CO poisoning are children and senior citizens.
We were surprised to learn that HUD does not have a regulation requiring housing units under its control to have carbon monoxide detection. Senator Kamala Harris (D-CA), and Representatives Joe Cunningham (D-SC) and Jesús Garcia (D-IL) introduced bills in the Senate and House (S755 and HR1960) to require CO detectors in HUD housing units. More than 30 of our coalitions joined together to support this legislation. HUD Secretary Dr. Ben Carson has also pledged action.
Take Action on Carbon Monoxide Risk in Public Housing
Write to HUD Secretary Ben Carson
Sample note to HUD Secretary Dr. Ben Carson
Dear Secretary Carson, I recently learned from Safe Kids Worldwide that the Department of Housing and Urban Development does not presently require housing under its control to have carbon monoxide detectors. I know that you have asked your department to study this issue, and I thank you. Safe Kids supports legislation that would require this necessary action but I ask that you take action, now, to correct this deficiency which puts kids at risk. Thank you.
Email address for Secretary Carson: [email protected]
Read more about the military housing issue.
Read more about carbon monoxide in HUD public housing.
The Safe Kids coalitions who signed onto one or both actions
Safe Kids Alaska; Safe Kids Greater Sacramento, California; Safe Kids San Diego, California; Safe Kids California; Safe Kids Colorado; Safe Kids Colorado Springs, Colorado; Safe Kids Denver Metro, Colorado; Safe Kids Connecticut; Safe Kids District of Columbia; Safe Kids Hawaii; Safe Kids Illinois; Safe Kids Chicago, Illinois; Safe Kids South Chicagoland, Illinois; Safe Kids Bartholomew County, Indiana; Safe Kids Maine; Safe Kids Massachusetts; Safe Kids Minnesota; Safe Kids Cascade County, Montana; Safe Kids Missoula, Montana; Safe Kids New Hampshire; Safe Kids Middlesex, New Jersey; Safe Kids New Jersey; Safe Kids New York City, Manhattan, Bronx, Brooklyn and Staten Island, New York; Safe Kids Nassau County, New York; Safe Kids Queens, New York; Safe Kids New York State; Safe Kids Grand Forks, North Dakota; Safe Kids Bismarck/Mandan, North Dakota; Safe Kids Minot, North Dakota; Safe Kids Fargo-Moorhead, North Dakota; Safe Kids Ohio; Safe Kids Summit County, Ohio; Safe Kids Mahoning Valley Ohio; Safe Kids Portland Metro, Oregon; Safe Kids Southeastern Pennsylvania, Pennsylvania; Safe Kids Upstate, South Carolina; Safe Kids Virginia; Safe Kids Thurston County, Washington State; Safe Kids Southeast Wisconsin, Wisconsin; and Safe Kids Wisconsin