Water Safety and Persistent Misconceptions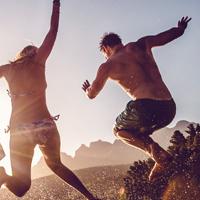 As temperatures rise this summer, many families take to the water. But did you know that drowning remains one of the leading causes of preventable deaths for children in the U.S., with nearly 800 deaths each year? Help us change this and make the water a safe place for our kids to play.
We conducted new research and uncovered some persistent misconceptions parents have about water safety. For example, nearly half of parents we spoke with think that if a child was drowning nearby, they would hear it – but drowning is silent and there can be very little splashing, waving or screaming. And 1 out of 3 parents have left a child alone in a pool for two or more minutes, when the reality is that drowning is quick and parents may have less than a minute to react once a child starts to struggle.
So how can parents keep their kids safe in and around water? We have answers.
NEW RESEARCH REPORT
Our newest research report, "Keeping Kids Safe In and Around Water: Exploring Misconceptions that Lead to Drowning," seeks to raise awareness around this important topic. We explored persistent misconceptions giving families a false sense of security and offer tips to help parents keep their kids safe.
Read the new Water Safety report
INFOGRAPHIC
We've created an infographic highlighting the most important facts and findings for parents, as well as several of the most common misconceptions. These discoveries, alongside important tips, are presented here in a way that's helpful and easy to read.
Download the PDF version | Get the story behind the infographic |
Download the pool safety poster | En Español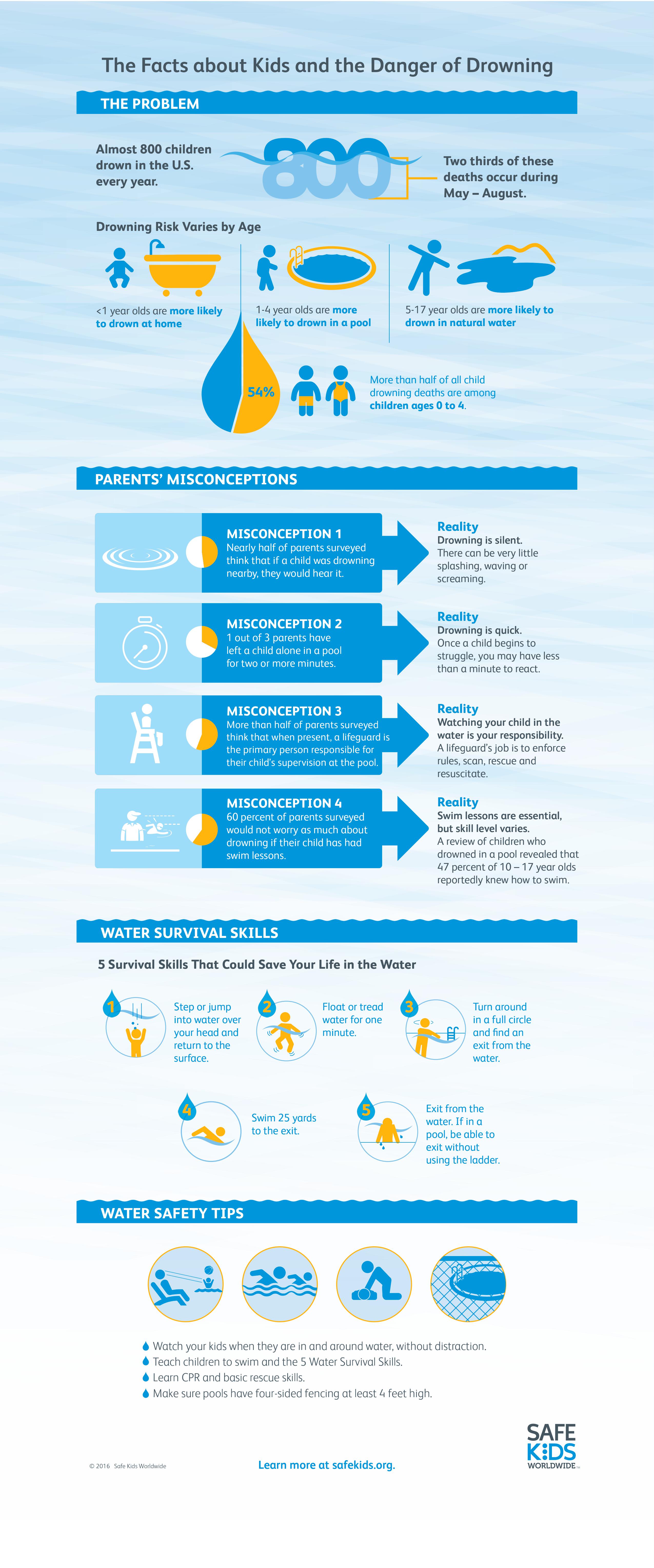 WHAT FAMILIES CAN DO TO KEEP KIDS SAFE
Watch kids when they are in or around water, without being distracted. Keep young children within arms' reach of an adult. Make sure older children swim with a partner every time.
Teach children how to swim. Every child is different, so enroll children in swim lessons when they are ready. Consider their age, development and how often they are around water.
Make sure kids know how to swim and have these five water survival skills:

Step or jump into water over their heads.
Return to the surface and float or tread water for one minute.
Turn around in a full circle and find an exit from the water.
Swim 25 yards to exit the water.
Exit from the water. If in a pool, be able to exit without using the ladder.

Install fences around home pools. A pool fence should surround all sides of the pool and be at least 4 feet tall with self-closing and self-latching gates.
Empty kids' pools after each use. Store them upside down so they don't collect water.
Know what to do in an emergency. Learning CPR and basic water rescue skills may help you save a child's life.
A My High 5 list makes it easy for you to learn safety actions you can take right now to keep your kids safe.
Download the Pool Safety #MyHigh5 list
WATER WATCHER CARD
When children are swimming and there are several adults present, make sure kids are actively supervised at all times by choosing a Water Watcher. A Water Watcher is a responsible adult who agrees to watch the kids in the water without distractions and hold a Water Watcher card. After a certain amount of time (such as 15-minutes), the Water Watcher card is passed to another adult, who is responsible for the active supervision.
Download a Water Watcher card here
GARY ON THE STREET
Gary hit the streets – or in this case, the pool – to find out what parents know about keeping their eye on kids at the pool and if they've ever heard of a Water Watcher card. Be sure to watch to the very end!