What Every Grandparent Needs to Know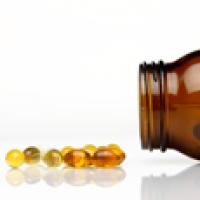 Grandparents are playing a bigger role than ever before in raising their grandkids. More than 7 million grandparents in the United States live with their grandchildren, and 13 percent of grandparents are relied on to be a trusted caregiver.
Taking care of kids is a big job and these grandparents deserve a huge thank you for all they do. However, recent research has raised the question: what do grandparents do to keep kids safe around medicine?
To explore this question, Safe Kids surveyed more than 1,000 grandparents who regularly take care of young children. While we found that many grandparents know what to do when it comes to storing and giving medicine safely, we also discovered that many made exceptions that could put kids at risk.
Here are four new facts about grandparents and the tips that can help:
Fact: One in eight grandparents who take care of grandkids every day say they keep prescription medicine on a nightstand or dresser when young children are visiting their home, where kids could potentially get into it.
Tip: Keep medicine up and away when young children are around—even medicine you take every day. Before kids come over, do a quick scan of places where you store medicine—prescription, over-the-counter, and vitamins—and make sure that they're stored out of sight and reach of kids.
Fact: Twenty-eight percent of grandparents report using easy-open or non-child resistant caps on medicine bottles, and 42 percent of grandparents who use these keep prescription medicine on a bathroom or kitchen sink, counter table or shelf.
Tip: If you're able to open child-resistant caps, it's best to choose these bottles if young children are in your home or you're bringing medicine to their home. Remember that child-resistant isn't the same as child-proof. Make sure to always keep medicine up and away and out of sight when around young children.
Fact: Forty-six percent of grandparents say they've given over-the-counter medicine to a grandchild in the last year. Grandparents are choosing the most accurate tool to measure medicine: 86 percent say they use the dosing device that came with the medicine.
Tip: Other ways to measure medicine, such as kitchen spoons, aren't as accurate, so always use the dosing device that comes with the medicine.
Fact: When it comes to storing medicine between doses, many grandparents are diligent about storing medicine up and away. Forty-eight percent store their grandchild's medicine in a cabinet above the counter or sink in between doses. However, we learned that 13 percent keep the child's medicine on the bathroom or kitchen sink, counter or table—where children can easily see and reach it. In a study of children who got into over-the-counter medicine, researchers found that 60 percent of caregivers said that the medicine wasn't in its normal storage location when the child got into it.
Tip: Mistakes happen when medicine isn't stored in its normal, secure location, so make sure to return medicine to a cabinet or closet shelf that's high and out of the reach and sight of children.
More Information
Learn more about the new research, and see more tips on keeping medicine safe around young children.