When It Comes To Carbon Monoxide, Let's Act Now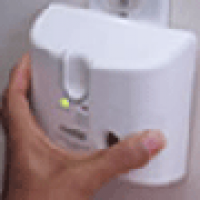 This week, 49 children and staff from Finch Elementary School in Atlanta, Georgia were taken to the hospital for carbon monoxide poisoning. Record levels of carbon monoxide, a poisonous gas known as the "silent killer," were circulating in the school as a result of a faulty furnace.
There was not a carbon monoxide detector in the school, putting students, teachers and administrators at serious risk. Thankfully, everyone affected appears to be on the road to full recovery.
But this near-tragedy has many parents, including me, wondering, "Is this something that can happen at my child's school?"
Unfortunately, the answer is yes. According to a recent article in USA Today, in the last two years there have been at least nine incidents of high levels of carbon monoxide gas in schools. As a result, at least 244 children and staff were hospitalized or treated for carbon monoxide poisoning.
Carbon monoxide is a gas that you cannot see, taste or smell. It is found in combustion fumes, produced by gas ranges, stoves, heating systems, cars, trucks and more. Breathing carbon monoxide fumes decreases a person's ability to carry oxygen. At its worst, carbon monoxide can cause severe side effects or even death.
Children are especially vulnerable because their smaller bodies process carbon monoxide differently than adults. They may be more severely affected and may show signs sooner. Symptoms of carbon monoxide poisoning include headache, nausea and drowsiness.
A carbon monoxide leak can only be detected by installing a working carbon monoxide detector; however, only two states, Connecticut and Maryland, have laws mandating the installation of carbon monoxide detectors in schools.
Parents, don't wait for laws when it comes to protecting your children.
Here are a few questions to ask your school principal today to see if your school is at risk of carbon monoxide.
• Are there any risks such as generators, furnaces or gas stoves that might cause carbon monoxide poisoning? Even a school bus left running too close to an open school window can be a risk.
• If so, does your school have a working carbon monoxide detector?
• Has your school conducted a safety survey to make sure the carbon monoxide detectors in place are working, as well as similar protective measure for fire and other dangers?
Once you have the answers from your school, don't overlook your home. Similar to smoke alarms, make sure you have a carbon monoxide detector on every level of your home, and remember to change the batteries when you change your clocks.
We know how to prevent carbon monoxide poisoning. The technology exists. The cost is low. Let's not wait until a serious tragedy before we take action. Especially not when there are common sense, cost-effective ways to keep our kids safe both at home and at school.
For more information, visit safekids.org