Will Boy George Go On to Win and Become The New Celebrity Apprentice?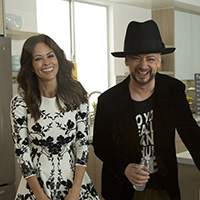 Will Boy George become The New Celebrity Apprentice? We certainly hope so.
Last year, we were thrilled to learn that Boy George selected Safe Kids Worldwide as his charity in the competition. And he has brought his creative energy, warmth, good humor, passion for our cause and his amazing fundraising skills to the show - and yes, an array of wonderful, colorful hats as well. We are thrilled that he made it to the final competition and are rooting for him to win. Stay tuned for the final show on February 13.
In case you missed last night's show, here's our recap.
Tasked with creating an in-home demonstration to promote Jessica Alba's Honest Company products, Boy George jumped at the opportunity to be a team leader. Joined by Team Prima partner Brooke Burke-Charvet, they welcomed focus group guests and Jessica Alba herself into their "home" for a demonstration of Honest products. It was their warm, creative atmosphere, coupled with a risky product demonstration, that led to their win. This was the seventh time Boy George has been on the winning team, and as project manager, he added another $50,000 win for Safe Kids. Bravo! As he said when told he won, "There's much about the (Honest) brand that connects to this charity." With tears in his eyes, he added, "It's all about educating children and parents."
Four people entered the board room after the first task, but in a surprising twist, only two competitors remained by the second hour. Governor Schwarzenegger terminated Team Arete's leader, Laila Ali, and then in a surprise move fired Brooke Burke-Charvet. Boy George is now joined by Matt Iseman for the final competition and it's going to be a tough one. They are tasked with creating an ad campaign, hosting a party and producing a 15-minute variety show, all to promote Carnival Cruise Lines. And yes, they also have to fundraise for their charity.
Laila Ali, Carson Kressley and Porsha Williams will help support Boy George in this last critical challenge. As he said, "I just want to do a great job." And from what we saw in the lead up to next week, we know he will.
Thank you, Boy George, for choosing Safe Kids Worldwide and working with us to protect kids from preventable injuries that claim the lives of a million children around the world. We will always be cheering for you, both for a win next week and for happiness and success in everything after.