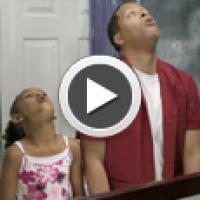 My 15-year-old son recently got his learner's permit.
The other day, he was practicing in our neighborhood when he approached a speed bump. The speed bumps in my neighborhood have gaps on each side where you can easily fit a tire. So basically, if your car straddles the center of the road, you can drive straight through without going over the bump part – a convenience I might have used once or twice.
Slowly, my son started to slide the car over so the wheels would fit through the gaps.
"What are you doing?" I asked. "You can't use those."
I could swear I saw a sly smile on my son's face as he calmly slid the car back to the right side, and asked, "Then why do you?"
Enjoy this video, with several more examples of how our kids are watching more than we think.