You are here
Stories That Move You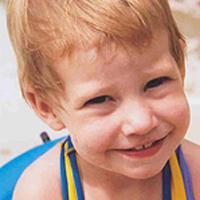 Originally posted on May 27, 2014
Yes, my parents actually let me marry the guy who burned me.
We were in high school and my future husband, John (the sweet guy he is), was cooking fried okra. The oil in the pan became too hot too fast. It went up in flames in a matter of seconds. I was standing back against the wall and could not get out of harm's way quick enough. My right foot and leg caught on fire. I instinctively did exactly what I was taught years before – Stop, Drop, and Roll. This lesson proved successful and I was able to put out the fire, but not before getting third degree burns to 11% of my body.
Looking back, it was the beginning of my safety crusade.
I wish I could say the adventures stopped then or (at least) became less dramatic once we were married. Not so.
In 1998, my first child, Josh, was born. Shortly after he was born, he started having seizures. An MRI confirmed he was born with agenesis of the corpus callosum (missing the bridge that connects the right and left hemisphere of the brain). Think Dustin Hoffman in Rainman. No, we have not taught him to gamble yet, but he has an unbelievable memory! Josh was also diagnosed with craniosynostosis, autism and is legally blind, among other things. He is also the most precious, sweetest, and loving little guy.
Safety, once again, became a huge focus in my life not only for Josh but for my second child, Reagan, who was born three years later. I figured, as long as I am around, I can keep my kids safe. For the most part, this proved successful…until it didn't.
The date was July 26, 2003. Josh was 5 years old at the time and Reagan had just turned 2 years old. The story goes like this…
Family gathering
Multiple family members out by pool
Took Josh inside to go to the bathroom
Asked family member to change Reagan's clothes
Family member thought Reagan followed me in
3 year old cousin asked, "What's wrong with the baby?"
My sister sees Reagan at bottom of pool in fetal position
Chaos and screaming
I walk outside to someone doing CPR on Reagan
Eyes rolled back, not breathing
I think she is gone
Ambulance arrives
Put on life support
Reagan survives
I will never be the same
I thought as long as I was present to protect my children, nothing would/could happen. I was already overprotective to a fault at times. I have a degree in health promotion and am an advocate in preventive medicine. Prevention is the key…I knew that!
With all the "adventures" we have faced, I have made a choice to make something positive come from it. I understand that I can't keep my children safe in all situations. All I can do is my best. My best means: educating myself (and my children) in regards to safety procedures and preventative measures AND praying. Lots of praying.
I was contacted by Tulsa Area Safe Kids Coalition shortly after Reagan recovered from her near-drowning. I was asked to share my story. Although painful, this gave me a purpose for why it might have happened. Maybe…just maybe…I could prevent a similar situation from happening and keep another family from enduring a similar fate. Maybe I could even save a life.
This blog (my first post EVER!) is dedicated to:
Every parent who has endured the loss of a child due to unintentional injury.
Every child who has permanent, life changing challenges due to an unintentional injury
Every parent trying their best to protect their children while letting them be a kid at the same time
Every child with special needs who need extra tools and support to keep safe
In 2005, Jennifer Sollars Miller co-founded the Autism Center of Tulsa (ACT), a 501c3 non-profit organization. ACT is dedicated to providing meaningful programs and partnerships in order to increase awareness and understanding, community involvement, and independence for individuals affected by autism and related neurological disorders. Its biggest program focuses on safety identification for individuals with invisible disabilities.