On Bike Or On Foot, Help Kids Prevent Injuries With These 3 Safety Tips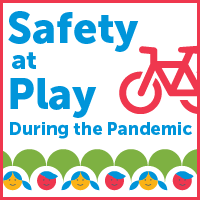 In the midst of the coronavirus pandemic, it's important to practice social distancing and stay in the house as much as possible to protect ourselves, our families and the health of others. However, we do understand that getting out for a bit to stretch and play is important for children (and adults). As you work to strike that right balance, here are a few simple safety tips to help your kids stay active and injury free.
Teach kids to look left, right and left again before crossing the street. We know that many of you are now balancing working from home and supervising your children so at times they may be outside playing on their own. This is a great opportunity to reinforce this simple tip and practice a few times with the younger ones to make sure they know the right thing to do when an adult isn't there.
Make eye contact with drivers. Everyone is just a little more distracted nowadays so remind kids to make eye contact with drivers before crossing the street, and to pay full attention while crossing by putting phones, headphones and devices down.
Wear a properly-fitted helmet. Taking a bike ride is always a great activity for kids, and it seems more and more kids are cruising around either by themselves or with their families. This is no time for a needless trip to the hospital so remind your children the importance of wearing a helmet every time they ride. And if you're going with them, remember to be a good role model and wear your helmet as well. Kids look up to you.
See our other blogs on how to help keep kids safe, even as we deal with the pandemic. If you have a question for one of our experts, please email Gary Karton at [email protected] and we'll include it in a Q&A to help you and other caregivers.
Please stay healthy and safe.