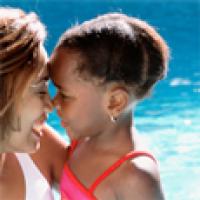 My family has always been large, but in the last few years we've grown significantly as my generation has made the transition from being the kids to being the parents. This just makes our time together even more enjoyable especially when we head to one of our favorite places: the beach.
There's nothing quite like watching happy kids building sandcastles, hunting for sea shells, splashing in the waves, and making their own memories, just the way my cousins and I did when we were kids.
But now that I'm an aunt, I have to admit, safety is on my mind, too.
And since May is National Water Safety Month, it seemed like a great time to review a few simple tips that will help ensure your day at the beach – or the pool, lake or river – is as safe as it is fun.
Five Simple Tips
Actively supervise children in and around water, giving them your undivided attention.
When there are several adults present and children are swimming, use the Water Watcher card strategy, which designates an adult as the Water Watcher for a certain amount of time (such as 15-minute periods) to prevent lapses in supervision. Download a Water Watcher card here.
Whether you're swimming in a backyard pool or in a lake, teach children to swim with an adult. Older, more experienced swimmers should still swim with a partner every time. From the first time your kids swim, teach children to never go near or in water without an adult present.
Remember that swimming aids such as water wings or noodles are fun toys for kids, but they should never be used in place of a U.S. Coast Guard-approved life jacket.
We know you have a million things to do, but learning CPR should be on the top of the list. It will give you tremendous peace of mind – and the more peace of mind you have as a parent, the better. Local hospitals, fire departments and recreation departments offer CPR training.
See full list of swimming safety tips. And please share these with your family and friends.
Related Resources
How to Choose the Right Life Jacket