Game Changers in Sports Safety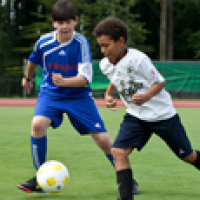 As the program manager for sports safety, where much of my work is focused on keeping kids healthy and in top shape for sports, I'm inspired by the young athletes I meet or hear about each day. Kids who are full of passion for the sports they love and a desire to work hard and play their best each time they're out on the field.
That's why it's heartbreaking when I hear about another young kid sidelined with a serious injury, like an ACL tear, or a concussion, which can have long-term effects if not diagnosed properly.
New Research

As kids gear up for sports this fall, Safe Kids Worldwide is teaming up with Johnson & Johnson to release new info about how to keep kids safe and in the game. Here's the big news: Each year, 1.35 million children are seen in emergency rooms for sports-related injuries. That's one child every 25 seconds. And female athletes are eight times more likely to have ACL (knee) injuries than male athletes.
This is just some of the information in our new research report, which looks at injuries in 14 popular youth sports and focuses on issues like concussions and knee injuries and how to prevent them.
Infographic

We've also developed a cool, new infographic to help parents, coaches and athletes learn the facts about sports injuries and how to prevent them.
Video
Wondering how to help a young athlete in your life? Check out our new video featuring U.S. Women's Soccer star Ali Krieger, which highlights 7 exercises for every young athlete.
Steve's Story: Overcoming Concussions
Or you can hear about what it's like to overcome an injury from the athletes themselves. Kids like Steve from Pennsylvania, who loved playing baseball since he was 5 years old, and knows first-hand how life-altering a concussion can be, especially if it goes untreated.
But above all else, we know there are things we can do to keep kids active and playing the sports they love. And spreading the word is the first step.
Help Get the Message Out
As part of our efforts, we're using social media to raise awareness about protecting young athletes from serious injuries. Help us reach more families and athletes by posting on Facebook or Twitter and encourage your family and friends to do the same.
Learn More
Want to learn more about how to prevent sports injuries? Here are four tips we believe can make a difference for athletes on and off the field:
Learn skills to prevent injuries while playing sports. Instill smart hydration habits, exercises and stretches to prevent common injuries. With the help of U.S. Women's Soccer player, Ali Krieger, we created a video that shows 7 things every athlete can do to help prevent knee injuries.
Encourage athletes to speak up about injuries. Too often, athletes feel like they are letting down their teammates, coaches or parents if they ask to sit out. The truth is it takes more courage to speak up about an injury that can have serious and long-term effects.
Support coaches and officials in making decisions to prevent serious injuries. A Safe Kids Worldwide 2012 survey found half of coaches admit to being pressured by a parent or athlete to keep an injured athlete in the game. Coaches need to be educated and confident in making decisions that protect the long-term interests of young athletes.
Lindsay Hansen is the program manager for sports safety for Safe Kids Worldwide, based in Tucson, Arizona.