Heatstroke Prevention: It's time to take action and put an end to hot car deaths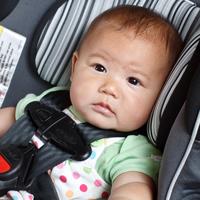 Every 10 days, across the United States, a child dies while unattended in a hot car. It only takes a few minutes for a car to heat up and become deadly to a child inside. As summer temperatures rise, more kids are at risk – the death toll this summer has already exceeded 20.
July 31 is National Heatstroke Prevention Day. Safe Kids is working to get the message out about the dangers of heatstroke and how to prevent these tragedies from occurring. We can prevent heatstroke with your help. Share a message about the importance of never leaving a child alone in car.
Did You Know?
A child's body heats up three to five times faster than an adult's body.
Heatstroke deaths have been recorded in 11 months of the year in nearly all 50 states.
More than half of heatstroke deaths occurred when a distracted caregiver forgot a quiet child was in the vehicle.
Take Action
Reduce the number of deaths from heatstroke by remembering to ACT.
A: Avoid heatstroke-related injury and death by never leaving your child alone in a car, not even for a minute. And make sure to keep your car locked when you're not in it so kids don't get in on their own.
C: Create reminders by putting something in the back of your car next to your child such as a briefcase, a purse or a cell phone that is needed at your final destination. This is especially important if you're not following your normal routine.
T: Take action. If you see a child alone in a car, call 911. Emergency personnel want you to call. They are trained to respond to these situations. One call could save a life.
Could it Happen to Your Child?
What Safe Kids Does to Prevent Heatstroke
To help prevent tragic and unnecessary deaths due to heatstroke, Safe Kids Worldwide and the General Motors Foundation teamed up to launch Never Leave Your Child Alone in a Car, an education and awareness campaign geared toward parents and caregivers.
In addition to safety messages and events, Never Leave Your Child Alone in a Car offers the Badge of Courage award, a recognition program for heroes who take action to prevent unattended child fatalities from heatstroke. To nominate someone for a Badge of Courage, please fill out this form.
Safe Kids also supports NHTSA's heatstroke education campaign, Where's Baby? Look Before You Lock,and welcomes the increased national coordination on the issue.
Additional Resources