One Easy Way to Make Your Home Safer: Recycle Your Old TV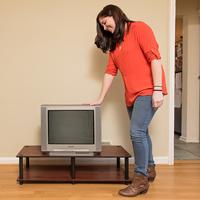 National TV Safety Day is February 4
The Super Bowl is one of the most watched events on TV every year, and it's the perfect time to remind everyone about TV safety. TV safety, which often isn't a top priority for families, is an important part of home safety and childproofing. If not properly secured, heavier CRT televisions can tip over and harm small children. In fact, every three weeks in the U.S. a child dies from a TV tipping over.
We encourage parents and caregivers to recycle heavier, box-style, cathode ray tube televisions, which can be hazards for children if not placed on a low, stable piece of furniture. A 36 inch heavier CRT TV falling three feet creates the same momentum as a 1-year old child falling ten stories.
TV tip-over incidents are preventable with a few simple steps.
Three Ways to Prevent TV Tip-Overs
Here are three things you can do with your old TV to help keep kids safer in your home:
Properly place your old TV. If you have a heavier, box-style TV, place it on a low, stable piece of furniture that is appropriate for the TV's size and weight.
Secure your flat-panel TV. Be sure your flat-panel TV is properly secured with a mount that has a safety certification by an independent laboratory (such as UL, CSA, ETL).
Recycle your old TV. To find a location near you that safely and easily recycles unwanted TVs, go to www.GreenerGadgets.org.
New Infographic
Here is our new infographic with everything you need to know about TV safety.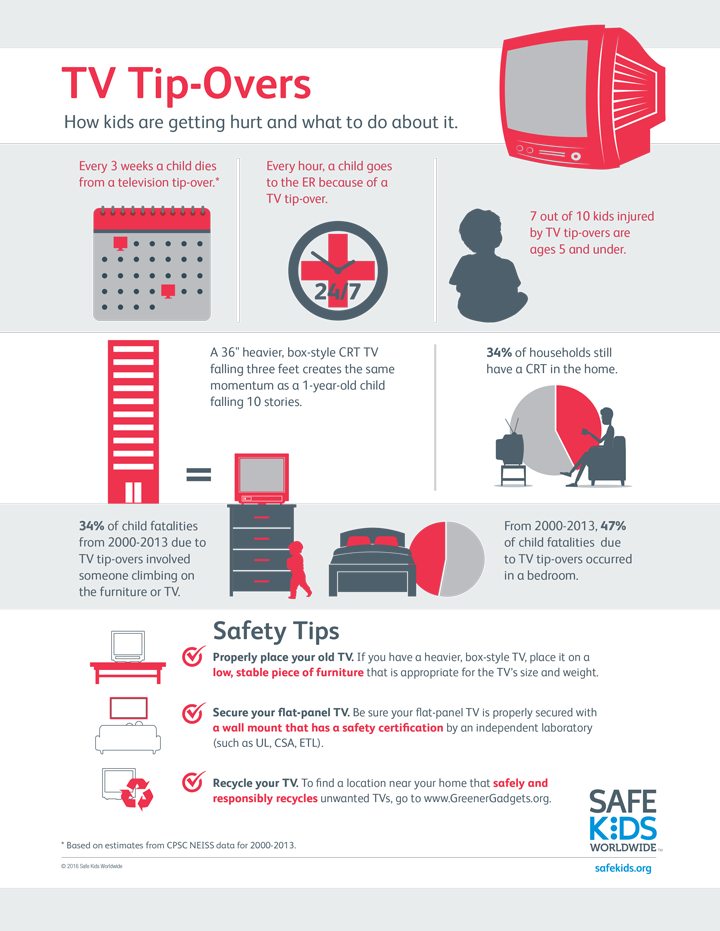 Special Report: Recycle Your TV
Watch this video and learn how to keep kids safe from TV tip-overs by recycling your old TV.
Thinking About Chance
On April 3, 2012, shortly after dinner, 2-year-old Chance was playing around the house, running back and forth between her older brother, Brandon's, room and her mom's bedroom. The last thing she said to her mom was, "I love you, mama."
In Brandon's bedroom, Chance pulled out the drawers to the dresser and started climbing to reach the TV, which was sitting on top of the dresser. In an instant, both the TV and dresser fell over. "What I saw when I entered the room will stay with me forever," said her mother, Keisha. "If I had only known more, things would've been different. That's why I want to share my story with as many families as possible."
To read Chance's full story, click here.
Gary on the Street: TV Tip-Overs
Safe Kids' Gary Karton takes to the street in Washington, D.C., to ask parents about how they childproof their homes. Is securing the television is part of their plan? Find out:
For more resources on TV safety, click here.
Originally posted 1-22-2015; updated 1-21-2016