Safe Kids Day is on the way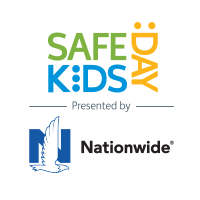 In April 2015, communities across the United States will celebrate Safe Kids Day, a day to celebrate kids, prevent injuries, and saves lives. With generous support from presenting sponsor Nationwide, as well as national sponsors Johnson & Johnson, Chevrolet, FedEx, Kidde and Tide, the Safe Kids Day campaign will raise awareness about the cause of child injury prevention – and raise the funds to support it.
In addition to our signature event in Los Angeles, Safe Kids Day will be celebrated with close to 200 events that will take place in communities across the country.
Many celebrity heroes have already lent their support to the campaign, including Drew Barrymore, Sharon Stone, Mark Wahlberg, Sugar Ray Leonard, Tom Arnold, James Caan, Tina Charles, Ali Landry, Neal McDonough, Alysia Montaño, Piers Morgan, Alysia Reiner, Nicole Richie, Nick Stevenson, Leonor Varela, Vanna White, Gwen Stefani and Gavin Rossdale. They are helping to raise awareness of the ways we can protect kids from preventable injuries, the number one cause of death for kids in the United States.
The signature event for Safe Kids Day Presented by Nationwide will take place on Sunday, April 26, 2015, at the Lot in West Hollywood. This fun-filled event will feature celebrity guests who will help shine a light on the cause of child injury prevention. The theme this year is "Let's Play" and activities include an obstacle course, a ball pit, an interactive dance floor, carnival games and more.
We encourage you to join us by attending a Safe Kids Day event in your community. These fun-filled events will engage children and parents in safety-themed activities that highlight how to keep kids safe at home, at play and on the way. Find your Safe Kids Day.
Our campaign is just starting and we need your help to reach our $1,000,000 fundraising goal. Please support our mission to keep all kids safe!
Special thanks to all our Safe Kids Day sponsors:
National Sponsors

Signature Event Sponsors