Teens Talk Driving Safety with NHTSA and Safe Kids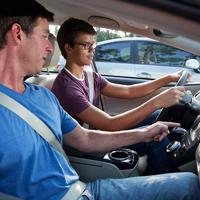 There's nothing better than a group of young people striving to change the statistics!
To kick- Off National Teen Driver Safety Week, Safe Kids Worldwide teamed up with the National Traffic Safety Administration to host an event at Mills High School focused on teen passenger and driver's safety.
NHTSA Administrator Mark Rosekind and Safe Kids Worldwide President & CEO Kate Carr led a roundtable discussion with leadership students at the high school. The roundtable discussion started off with an open conversation about why teens make unsafe decisions on the road. Students expressed how devastating it is to know their friends and loved ones died due one unsafe decision on the road.
One of the highlights of the event was Kate Carr emphasizing the important role teens have in not only their own safety, but influencing their peers to also make safe decisions. Students shared their perspectives on drivers' safety, and identified situations where they should have spoken up about feeling unsafe in the car.
The event ended with pictures and a brief time for students to learn more about the work done at Safe Kids Worldwide. Students left the event with a greater understanding of teen drivers' safety, and how they can make more positive choices.
"We all have a role when it comes to keeping teens safe as drivers and passengers, said Kate Carr, president & CEO of Safe Kids Worldwide. "As a parent of a teen, I understand the value of listening and learning what it will take and what we can do to empower teens to make safety a priority every ride, every time."