Join Safe Kids on National TV Safety Day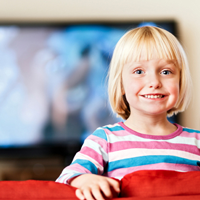 Safe Kids Worldwide and the Consumer Technology Association (CTA),® formerly the Consumer Electronics Association, are once again teaming up to help make your home safer in celebration of National TV Safety Day. The Super Bowl is one of the most watched events on TV every year, and it's the perfect time to remind everyone about TV safety.
If you live in southern California, join us as we team up with Sam's Club to celebrate National TV Safety Day. Our coalitions will host three wonderful events on National TV Safety Day, February 6. Stop by for some fun and games as we teach parents about the importance of securing TVs in the home.
Events
Sam's Club
San Bernardino
1055 E. Harriman Place
San Bernardino, CA, 92408
​Time: 1:00 - 4:00 pm PST
Hosting Coalition: Safe Kids Inland Empire
Sam's Club
Stanton
12540 Beach Blvd
Stanton, CA, 90680
Time: 1:00 - 5:00 pm PST
Hosting Coalition: Safe Kids Orange County
Sam's Club
City of Industry
17835 E. Gale Ave
City of Industry, CA, 91748
Time: 1:00 - 5:00 pm PST
Hosting Coalition: Safe Kids LA West
TV safety, which often isn't a top priority for families, is an important part of home safety and childproofing. If not properly secured, heavier CRT televisions can tip over and harm small children. In fact, every three weeks in the U.S. a child dies from a TV tipping over.
We encourage parents and caregivers to recycle heavier, box-style, cathode ray tube televisions, which can be hazards for children if not placed on a low, stable piece of furniture. A 36 inch heavier CRT TV falling three feet creates the same momentum as a 1-year old child falling ten stories.
TV tip-over incidents are preventable with a few simple steps.
Three Ways to Prevent TV Tip-Overs
Here are three things you can do with your old TV to help keep kids safer in your home
Properly place your old TV. If you have a heavier, box-style TV, place it on a low, stable piece of furniture that is appropriate for the TV's size and weight.
Secure your flat-panel TV. Be sure your flat-panel TV is properly secured with a mount that has a safety certification by an independent laboratory (such as UL, CSA, ETL).
Recycle your old TV. To find a location near you that safely and easily recycles unwanted TVs, go to www.GreenerGadgets.org.
For more resources on TV safety, click here.