Keeping Kids Safe Around Medicine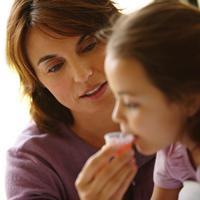 Parents, did you know that today there are more medicines in the home than ever before? Three times as many prescriptions are filled in the U.S. today than in 1980, and five times as many dollars are spent on over-the-counter medicine. Medicines play a vital role in treating diseases, relieving symptoms and extending lives, but they can cause serious harm to our kids if they get into them or if they are not given as directed on the label.
The equivalent of about four school busloads of kids arrive at emergency rooms in the U.S. every day because a child accidentally got into medicine. That's more than 59,000 kids each year. And almost every minute of every day, a call is made to a poison control center because a child got into medicine.
What can parents do? We have answers.
New Research Report
To raise awareness of this important issue, Safe Kids is releasing its newest research report, "The Rise of Medicine in the Home: Implications for Today's Children." The report, written by Safe Kids Worldwide with support from McNeil Consumer Healthcare, the makers of Children's TYLENOL®, is a call to action for families and caregivers – sharing facts, providing insights about risk factors for accidental medicine poisoning and helping families learn what they need to do to keep their kids safe around medicine.
Read the new Medication Research Report
Infographic
We've created a new infographic highlighting the most important facts and findings from the research in a way that's helpful and easy to read.
Download the PDF version | Get the story behind this infographic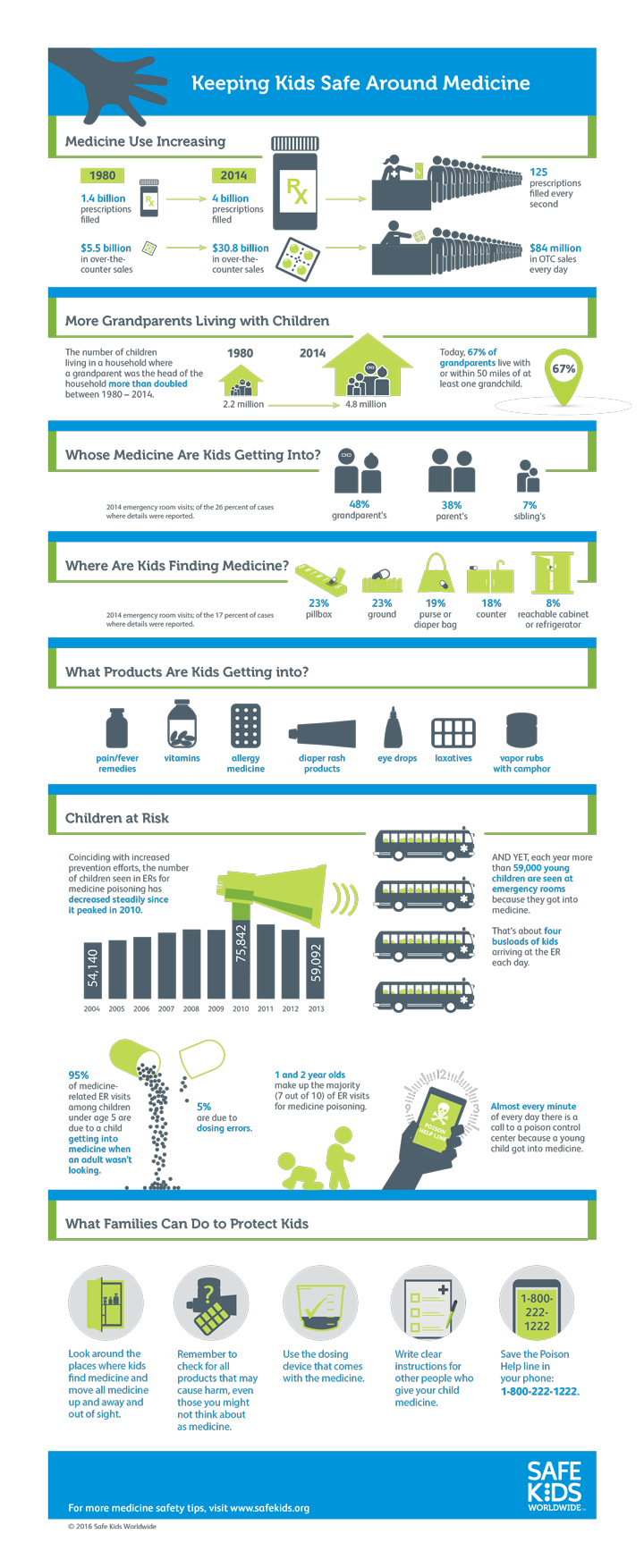 What Families Can Do to Protect Kids
Put all medicine up and away and out of sight. In 86% of emergency department visits for medicine poisoning, the child got into medicine belonging to a parent or grandparent.
Check all the places where kids get into medicine. Kids get into medication in all sorts of places, like in purses and nightstands. Place purses and bags in high locations, and avoid leaving medicine on a nightstand or dresser. In 2 out of 3 emergency room visits for medicine poisoning, the medicine was left within reach of a child.
Remember to safely store all potentially harmful health products. Health products such as vitamins, diaper rash creams, eye drops and even hand sanitizer can be harmful if kids get into them. Store these items up, away and out of sight, just as you would traditional medicine.
Only use the dosing device that comes with the medicine. Kitchen spoons aren't all the same, and a teaspoon or tablespoon used for cooking won't measure the same amount of medicine as a dosing device.
Write clear instructions for caregivers about your child's medicine. When other caregivers are giving your child medicine, they need to know what medicine to give, how much to give and when to give it. Using a medicine schedule can help with communication between caregivers.
Save the Poison Help line in your phone: 1-800-222-1222. Put the toll-free number for the Poison Control Center into your home and cell phones. You can also put the number on your refrigerator or another place in your home where babysitters and caregivers can see it. And remember, the Poison Help line is not just for emergencies, you can call with questions about how to take or give medicine.
Check out our full list of tips for families.
Safe Storage, Safe Dosing, Safe Kids
Check out this video to learn some important medicine safety tips. You can also find the video subtitled in Spanish here.
Gary On The Street
Our Gary Karton hit the streets to ask teens about medication safety and the Poison Help line.
Learn More