Want to Be the "Comedy Central" of Road Safety? Send Us Your Ideas!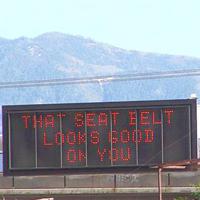 Did you hear the one about the street sign that tried to be funny? Nowadays, the highway signs originally designed to tell drivers about upcoming traffic jams or detours, also display signs to keep us safe. They tell us to buckle up our seat belts and child restraints, keep a safe following distance, and never drive after drinking alcohol.
What if I told you that some states are experimenting with amusing safety messages to grab your attention? Instead of "Buckle Up – It's the Law" you might start seeing "That seat belt looks good on you!" Talk about taking comedy on the road.
The Utah Department of Transportation is one of the most imaginative in the nation. It paved the way for punchline safety signs, with favorites like "Steering wheel: not a hands-free device" and "Turn signals: the original instant message."
Meanwhile, Massachusetts has played on its famed regional accent with signs like "Use ya blinkah" and "Make yah ma proud, wear ya seatbelt."
Iowa, an early pioneer of this type of highway public service announcement, even included a Star Wars reference with its "May the 4th be with you. Text I will not" signs.
While recognizing that driving a car is very serious business, officials hope that these signs will be more than one-time reminders to drivers. In addition to making people laugh, they hope these attention-grabbing signs will be family conversation starters, and help create more long-term safe driving habits.
Safe Kids Worldwide wants to keep the conversation going with a #laughforsafety challenge. We want to hear your ideas for funny highway safety messages. Messages should be creative, funny, and of course address some aspect child safety and injury prevention, whether that's seat belts, booster seats or heatstroke prevention. It can also be about how to be safe as a pedestrian or urging against using cell phones or texting while both your hands should be on the steering wheel.
Join us by tweeting @SKWAdvocate with your idea and include the hashtag #laughsforsafety by Friday, November 13th, at 3:00PM ET.
This could be your ticket to a "second act" in show biz.
Carly Spraggins was a Safe Kids 2015 summer intern and attends the University of Virginia