New Parenting Podcast Offers Advice and Understanding from Experts, Parents and Teens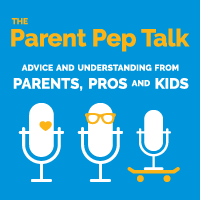 I've always thought of parenting as a team sport. It works better when we can support each other, learn from each other, and understand that we're not alone. That's what The Parent Pep Talk podcast is all about, which you can download today on iTunes or your podcast app.
As a dad for more than 19 years, believe me, I understand that parenting can be tough. So, I really wanted to create something to help parents get a little perspective, a few well-tested tips, and hopefully realize that they're probably doing a lot better than they think, even if it doesn't always feel like it.
Brought to you by Safe Kids Worldwide, this podcast is for parents with kids of all ages, and you can even listen with your kids. It might actually lead to some fun conversations (although no promises).
Watch the Video
Here's a short video that shares the story that started it all.
How the Podcast Works
Each podcast has three segments.
The first segment is an interview with an expert. This is a person who not only understands the topic but also understands parenting, so the advice is going to be really practical and realistic.
The second segment is called "Off the Record" where a panel of kids answers your questions. It's a great way to get some insights into what your kids are thinking.
The final segment is "Taking One for the Team." This is when a fellow parent "takes one for the team" by sharing an awkward story that might not paint their kid, or their parenting, in the best light but it hopefully helps the rest of us realize that there are no perfect kids, no perfect parents, and that we're all doing our best.
Podcast Topics
We're covering a wide range of topics that are important to parents—from how to raise a confident and happy child, to the growing issue of anxiety, to why there's so much more to school than just grades. And that's just in the first three episodes that are launching today on iTunes, Google Play, Stitcher, Spotify or your podcast app.
Here's a Sneak Preview
So please subscribe today and leave us a comment. Also, I'm very coachable, so please do not hesitate to give me feedback, ideas for episodes, or anything that you think will make the podcast as good as possible. You can email me at [email protected], or follow me on Facebook, Twitter, or Instagram @garykarton.
Please remember, you're doing great, even if it doesn't always feel like it. And we'll be right here for you with The Parent Pep Talk.